'Horrible Bosses' Red-Band Trailer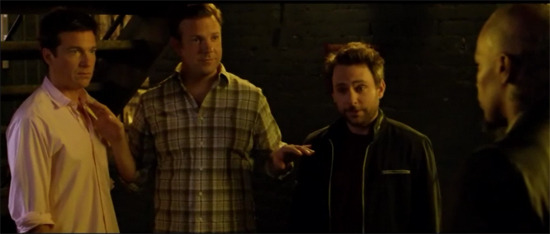 Because the new standard for raunchy comedy advertising is based on tried and true red light district methods — show off the goods, in other words — here's a new red-band trailer for the Jason Bateman / Charlie Day / Jason Sudeikis comedy Horrible Bosses. If you've missed the two previous trailers, the film features the three guys as hapless protagonists who enlist the aid of a 'murder consultant' (Jamie Foxx) in an attempt to do away with their three bosses, played by Kevin Spacey, Colin Farrell and Jennifer Aniston. Check out the red-band trailer to see just how poorly this endeavor seems to play out. This trailer gives a lot away, but if you're good with that, then by all means, proceed.
When I say the endeavor goes poorly, I mean the plan, not the film. I've had a good time with the two previous trailers, and this one looks great, too. There's probably something here for just about everyone, depending on which of the actors you like most. You can't go wrong with a little Hermie the Love Bug dialogue, there's a solid The Accused joke, and Ioan Gruffudd even looks like he's cast to good effect. How often does that happen?
Seth Gordon (King of Kong) directs from a script by Jonathan Goldstein and John Francis Daley. Horrible Bosses opens on July 8.
For Nick, Kurt and Dale, the only thing that would make the daily grind more tolerable would be to grind their intolerable bosses into dust. Quitting is not an option, so, with the benefit of a few-too-many drinks and some dubious advice from a hustling ex-con, the three friends devise a convoluted and seemingly foolproof plan to rid themselves of their respective employers...permanently. There's only one problem: even the best laid plans are only as foolproof as the brains behind them.