'Jurassic Park' Trilogy Will Hit Blu-Ray On October 25th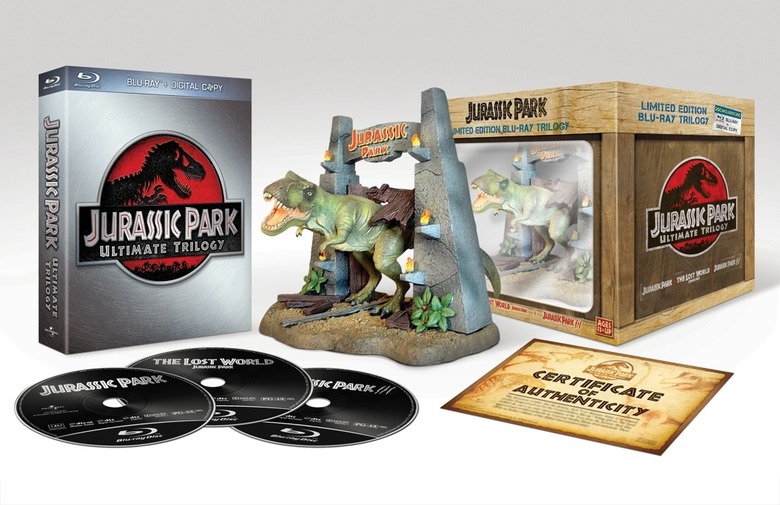 We knew it was coming and now we know when. On October 25, the Jurassic Park trilogy will finally be released on Blu-ray with all new extras and more. After the jump, read the full press release which includes all the juicy details like gift sets, digital copies, 7.1 audio and brand new documentaries. This set looks sweet...even if it does include The Lost World and Jurassic Park 3.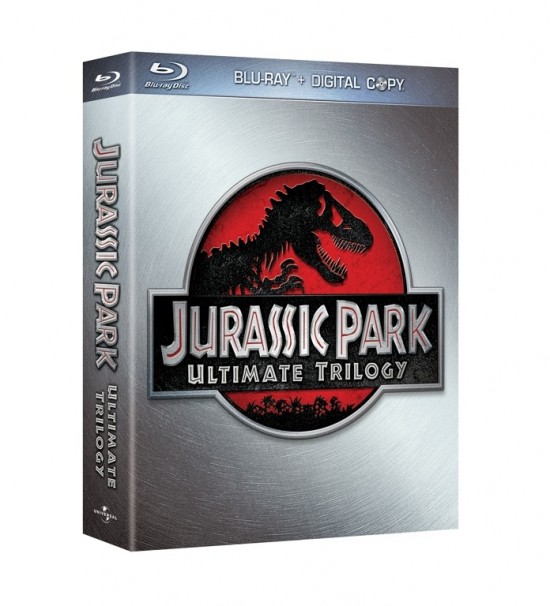 Here's the press release:
One of the Most Thrilling & Groundbreaking Motion-Picture Trilogies of All Time Roars onto Blu-ray™ with Breathtaking
New High-Definition Picture & Perfect Sound
JURASSIC PARK
All Three Epic Adventures from Filmmaker Steven Spielberg Plus More Than Two Hours of All-New Bonus Features
Available on Blu-ray™ For the First Time Ever On October 25, 2011
UNIVERSAL CITY, Calif., June 27, 2011 — The wait is finally over to experience one of the most anticipated motion-picture trilogies of all time like never before when Jurassic Park, The Lost World: Jurassic Park and Jurassic Park III debut as a trilogy set on Blu-ray™ October 25, 2011 from Universal Studios Home Entertainment. Acclaimed filmmaker Steven Spielberg's award-winning cinematic franchise, based on the best-selling book by Michael Crichton, generated nearly $2 billion combined at the worldwide box office and featured groundbreaking visual effects that changed the art of movie-making forever. Now, all three epic films have been digitally restored and remastered in flawless high definition for the ultimate viewing experience. Additionally, the films' visceral sound effects and the unforgettable music from legendary composer John Williams can now be heard in pristine 7.1 surround sound. Arriving in stores just in time for holiday gift giving, this collectible three-movie set also features hours of bonus features, including an all-new, six-part documentary and digital copies of all three films that can be viewed on an array of electronic and portable devices anytime, anywhere.  The Jurassic Park Ultimate Trilogy is also available on DVD, as well as in a spectacular Limited Edition Blu-ray Trilogy Gift Set which includes a custom T-rex dinosaur statue.
"From the moment T-rex first towered over worldwide movie audiences, the Jurassic Park Trilogy has electrified fans with its heart-pounding action and awe-inspiring technological innovations," says Craig Kornblau, President of Universal Studios Home Entertainment. "With this newly remastered and digitally restored edition, we continue the franchise's legacy by delivering to home viewers spectacular picture and sound that keeps the films as fresh and visceral now as they were when audiences first experienced them."
The Jurassic Park Ultimate Trilogy features an all-star cast including Sam Neill, Laura Dern, Jeff Goldblum, Samuel L. Jackson, Richard Attenborough, Ariana Richards, Joseph Mozzello, Julianne Moore, Vince Vaughn, William H. Macy and Tea Leoni.  In addition to the talented cast of actors, the Trilogy features stars of a different magnitude—from the huge Tyrannosaurus rex to the vicious Velociraptor, the Jurassic Park films showcase an extraordinary level of realism and technical innovation brought to life by a talented design team which include: Stan Winston, Live Action Dinosaurs; ILM's Dennis Muren, Full Motion Dinosaurs; Phil Tippett, Dinosaur Supervisor; Michael Lantieri, Special Dinosaur Effects and Special Visual Effects by Industrial Light & Magic.
ALL-NEW BONUS FEATURES ON BLU-RAY™ & DVD
"Return to Jurassic Park" – this six-part documentary features all-new interviews with the many of the cast members from all three films, the filmmakers and Steven Spielberg.
The Next Step in Evolution
ADDITIONAL FEATURES EXCLUSIVE TO BLU-RAY™
BD-LIVE™ – Access the BD-Live™ Center through your Internet-connected player to watch exclusive content, the latest trailers, and more!
MY SCENES: Bookmark your favorite scenes from the film.
pocket BLU™: The groundbreaking pocket BLU™ app uses iPad®, iPhone®, iPod® touch, Android™, PC and Mac® to work seamlessly with a network-connected Blu-ray™ player.  Plus iPad® owners can enjoy a new, enhanced edition of pocket BLU™ made especially to take advantage of the tablet's larger screen and high resolution display.  Consumers will be able to browse through a library of Blu-ray™ content and watch entertaining extras on-the-go in a way that's bigger and better than ever before.  pocket BLU™ offers advanced features such as:
ADVANCED REMOTE CONTROL: A sleek, elegant new way to operate your Blu-ray™ player. Users can navigate through menus, playback and BD-Live™ functions with ease.
VIDEO TIMELINE: Users can easily bring up the video timeline, allowing them to instantly access any point in the film.
MOBILE-TO-GO: Users can unlock a selection of bonus content with their Blu-ray™ discs to save to their device or to stream from anywhere there is a Wi-Fi network, enabling them to enjoy content on the go, anytime, anywhere.
BROWSE TITLES: Users will have access to a complete list of pocket BLU™-enabled titles available and coming to Blu-ray™.  They can view free previews and see what additional content is available to unlock on their device.
KEYBOARD: Entering data is fast and easy with your device's intuitive keyboard.
The following bonus features also appear on the both the Blu-ray™ and DVD:
The Making of Jurassic Park
The Making of The Lost World: Jurassic Park
The Making of Jurassic Park III
Steven Spielberg Directs Jurassic Park
Early Pre-Production Meetings
The World of Jurassic Park
The Magic of Industrial Light & Magic
Phil Tippett Animatics: Raptors In The Kitchen
The Jurassic Park Phenomenon: A Discussion with Author Michael Crichton
Industrial Light & Magic and Jurassic Park: Before and After The Visual Effects
Industrial Light & Magic and The Lost World: Jurassic Park Before & After
The Industrial Light & Magic Press Reel
A Visit to Industrial Light & Magic
Hurricane in Kauai Featurette
The Dinosaurs of Jurassic Park III
Montana: Finding New Dinosaurs
The Special Effects of Jurassic Park III
The Sounds of Jurassic Park III
The Art of Jurassic Park III
Tour of Stan Winston Studio
Feature Commentary with Special Effects Team
Production Archives: Storyboards, Models, Photographs, Design Sketches and Conceptual Drawings
Seems like a no brainer, even if you have to stomach the final two films. At least you know they'll look fantastic.