Photo: William Shatner Vs. Chris Pine In A Captain Kirk Arm Wrestling Match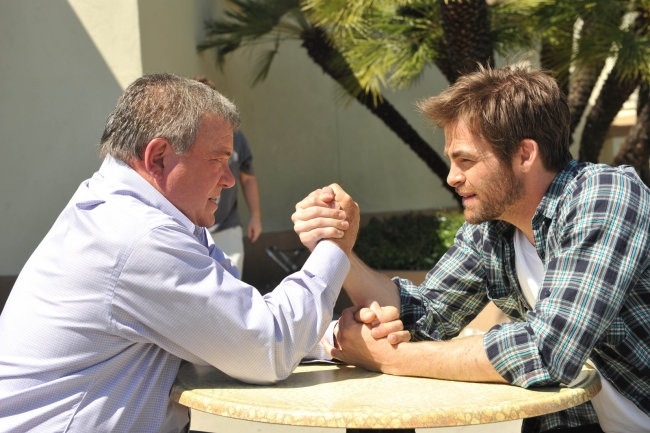 EpixHD tweeted out this photo of William Shatner, who played Captain James T Kirk in Star Trek: The Original Series taking on Chris Pine, who plays Kirk in the JJ Abrams' Star Trek reboot, in an arm wrestling match. It doesn't get more awesomely geekier than that does it? At first I thought the photo must be a fan photoshop, but after doing a little bit of research, I found that the moment is actually part of a documentary that will be airing on Epix.More details after the jump.
William Shatner's The Captains documentary was filmed over the last year with Shatner sitting down with all of Star Trek's captains (Patrick Stewart, Kate Mulgrew, Avery Brooks, Scott Bakula and yes, Chris Pine. Shatner told Canoe.ca what happened when he came face to fact with Pine:
He's shy. So the way I started the interview, I put out a table and chairs outside the Paramount gates, and arm-wrestled with him. That was the beginning of my interview with him. I think it broke the ice, that's for sure.
William Shatner's The Captains premieres on the EPIX Channel on July 21st 2011.