/Film Video Interview: John Boyega – Moses From 'Attack The Block'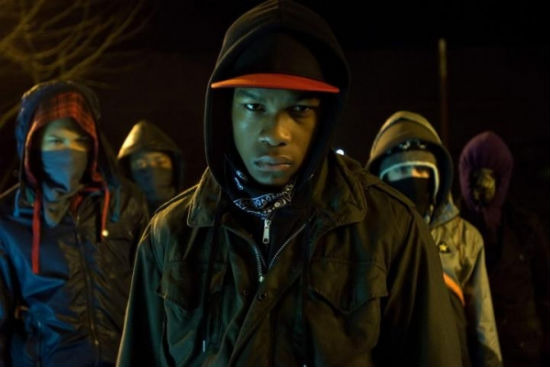 Outside of the fact that they bare a striking resemblance, John Boyega is nothing like Moses, his character in Joe Cornish's sci-fi adventure film Attack the Block. John's older, for one, 19 instead of 15. His British accent is more refined, his slick grey suit and skinny black tie are a far cry from the imposing baseball cap and hoodie he dons in the film and, on this early June morning, John's not in South London but Los Angeles, sitting on the Sony Pictures lot talking about a role that, come July 29, is sure to change him from dapper young actor to famous movie star.
Yes, John Boyega is very different from the fearless, alien killing, neighborhood gang leader he plays in Attack the Block and that makes his performance even more impressive. After the jump, watch our video interview with the actor in which he talks about his favorite films, language, a potential sequel and what The Wire has to do with fighting aliens.
Note that about 7 minutes in or so, we talk a few spoilers so if you haven't seen Attack the Block, you might want to punch out at that time. There's a warning.
Also, my apologies for the low quality video. I had to shoot the interview on my phone as everyone else with the nice equipment was out of town. Still, thanks to Mike Breiburg from CraveOnline for shooting the video so I could concentrate on the interview.
Attack the Block opens July 29 in New York, Los Angeles, Toronto, San Francisco, Seattle, Austin and Chicago.