David Goyer Developing '100 Bullets' For Showtime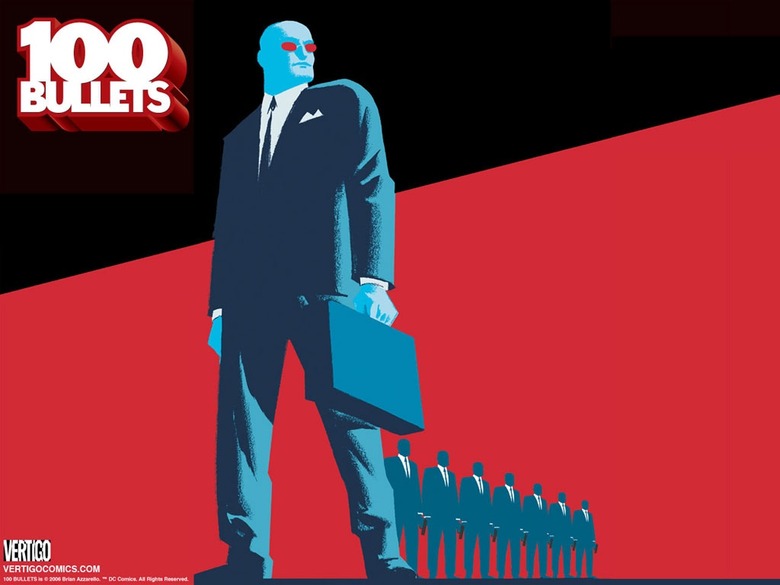 If given the opportunity to take lethal, consequence-free, revenge on someone who did you wrong, would you do it? That's the question that kicks off the award winning DC/Vertigo comic book 100 Bullets, a dark, pulpy series written by Brian Azzarello and illustrated by Eduardo Risso. The series, which ran for 100 issues from 1999-2009, has long been rumored for a live action adaptation and now it's finally happening. Superhero screenwriter David Goyer (The Dark Knight, Blade, Man of Steel) will executive produce a television version of the comic book series for Showtime.
Deadline broke the news of the deal a day after DC Comics (who published the book under their Vertigo imprint) Chief Creative Officer Geoff Johns let it slip in an interview that 100 Bullets was going to be a TV show. A few years ago, it was rumored to be going to HBO but that ended up not happening.
Goyer will reportedly executive produce and write on the series which follows the story of Agent Graves, a mysterious man who finds people who've had terrible things done to them and offers them a gun, a dossier of information, and 100 untraceable bullets to settle the score, if they so please. Over the course of the series, it's revealed that all of these moral questions and killings are tied to a major crime syndicate.
Being around comics, you tend to hear and recommend the best of the best: Preacher, Y: The Last Man, and another that always gets mentioned is 100 Bullets. Peter called it "a gateway graphic novel — one of those books for someone who really hasn't gotten into the world of superhero comic books." And the entire series has now been collected in graphic novels.
Much like Game of Thrones, which started as a niche fantasy book and became a mass market show, 100 Bullets follows a similar trajectory. A small but well-received comic book whose story is suitable for mass consumption. Do you think it'll make a good TV show?