Michael Bay Refuses To Let This Megan Fox Thing Die, Claims Steven Spielberg Ordered Her Fired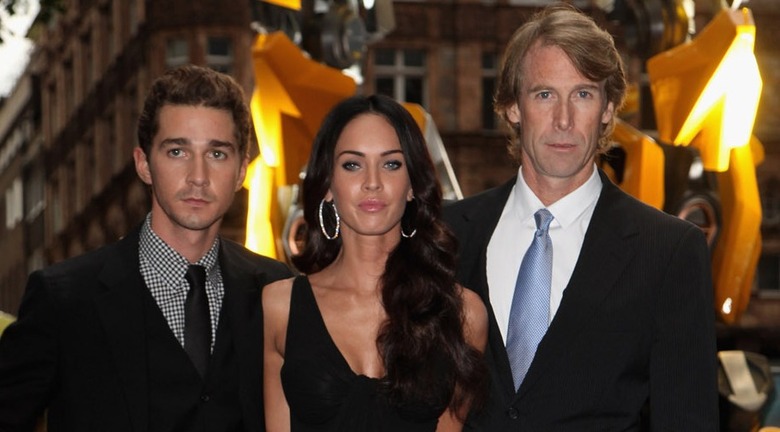 As you probably recall: Back in 2009, actress Megan Fox went public with her professional issues with Michael Bay, calling her Transformers director "a tyrant" and likening him to Napoleon and Adolf Hitler. Fox (unsurprisingly) caught heat for her comments, and though Bay made some attempts to smooth things over, the two continued sniping publicly and eventually parted ways. Victoria's Secret model Rosie Huntington-Whiteley was brought in to replace Fox as Shia LaBeouf's even more improbably gorgeous love interest, Fox pursued other projects, and the story should have ended there.
Unfortunately, Fox, Bay, and LaBeouf all have a tendency toward what might politely be called outspokenness, and what might less charitably called a constitutional inability to shut the hell up – and so here we are, a year later, still reporting on this ridiculous story. Bay is attempting to set the story straight. Again. And this time, he's bringing Steven Spielberg into it for some reason. Sigh. Read the latest chapter in this tiresome and apparently endless saga after the jump.
[Fox's comparison of Bay to Hitler] angered Spielberg, who is executive producer of the Transformers series and deadly serious when it comes to Nazis. Bay revealed for the first time he was told to get rid of Fox.
"You know the Hitler thing. Steven (Spielberg) said, fire her right now," he said ahead of the premiere of Transformers 3. The comment drew the ire of the film's crew, who compared her acting to that of a porn star.
Bay said he wasn't hurt by the Hitler comment. However, Spielberg is known to be sensitive when it comes to Nazis. After his experience directing Schindler's List, he founded the Survivors of the Shoah Visual History Foundation, which furthers the remembrance of the Holocaust of World War II.
What exactly Bay hoped to accomplish by dragging Spielberg into this is beyond me — his statements don't really make Spielberg look bad, but they make Bay sound petty and defensive. It's kind of a dick move to shift the blame to Spielberg, regardless of whether or not his statements are true. If Bay's telling the truth, he's an ass for pointing fingers. If he's lying, he's an ass for pointing fingers and also lying. Either way, he's only making this feud messier and more annoying by bringing it back up again instead of letting the stupid thing die.
Bay's not the only party at fault for keeping this thing going, however. A few weeks ago, LaBeouf gave an interview to the LA Times in which he blamed Fox's "Spice Girl strength" and "woman-empowerment [stuff]" for getting her booted from the Transformers franchise. Apparently, Fox was uncomfortable with the Bay objectified her, and took offense at his brusque-to-the-point-of-rudeness directorial style. It's not clear whether LaBeouf was trying to make his former co-star look bad, but he definitely didn't do Bay — or himself — any favors.
So, okay, in Bay's defense, perhaps he realized how obnoxious LaBeouf's comments were, just wanted to clear his name. But — really? Was blaming a beloved director and producer supposed to make Bay look better? Ironically, it's Fox, whose loose lips made all this drama public in the first place, who's coming off the best here — she's the only one out of the three of them who's managed to keep her damn mouth shut over the past several weeks.
Discuss: Do you believe Bay's Spielberg story? Do you even care about this feud anymore?