Mike Mignola Pessimistic About Idea Of Guillermo Del Toro Making 'Hellboy 3'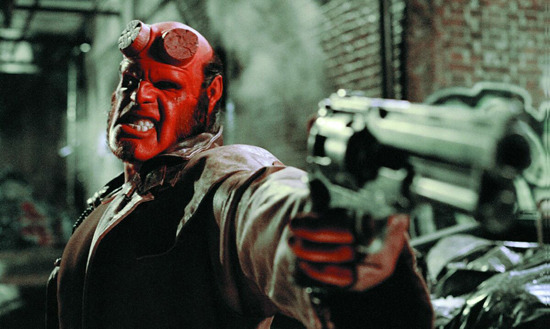 For several years — since the promotion cycle for Hellboy 2: The Golden Army — Guillermo del Toro has been talking about making a third Hellboy movie. Other participants, such as Ron Perlman, have talked about it, too, but the idea always came down to the availability of the director. The latest person to weigh in on the potential for a sequel is Mike Mignola, the man who originally wrote and drew the character on the comics page. And he doesn't think that theoretical third film is ever going to happen.
At the 2011 Calgary Comic Expo, Hellboy creator Mike MIgnola was asked about whether Guillermo del Toro could make a third film. The writer/artist said:
Last I heard he said he would not make it. Guillermo — who I love — in every interview there's a new story on what his next movie is and he honestly believes he's going to do all these things. But last I heard, he said 'I'm never gonna get back to Hellboy. I'm not surprised because he won't live long enough to do a tenth of the movies he's told me he's going to make... I can't imagine him (Del Toro) making a Hellboy 3. He's very enthusiastic and says he's going to do all these things....ummm....he's cute [laughed].
So some of our commentors aren't the only ones who have reached a line of tolerance with respect to GDT announcing one project after the other. But I'm sure the director has also been frustrated by the inaction and stalled projects of the last couple years — far more than anyone else. In the past, he's had a good ability to go back and forth between arthouse oriented films (The Devil's Backbone, Pan's Labyrinth) and movies like Hellboy. But with Pacific Rim coming up and likely to stand as his biggest project to date, it may be time to really movie forward and let go the idea of a third Hellboy. [The Daily Blam]