'Green Lantern' And 'Harry Potter' Are Selling More 2D Tickets Than 3D Tickets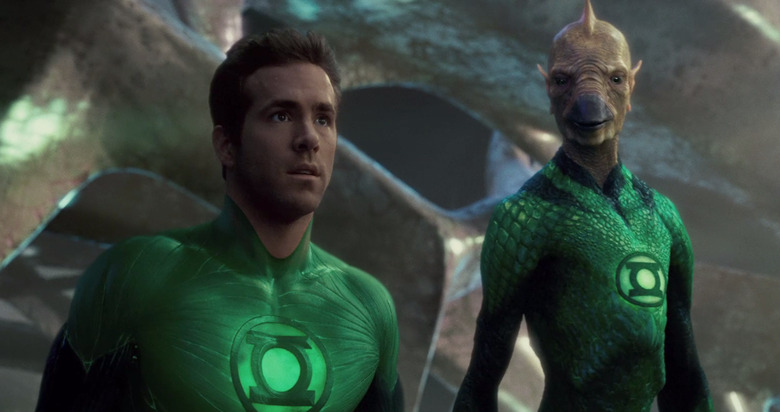 In yet another sign that audiences are tiring of shelling out a few extra bucks at the theater for the latest crappy studio-enforced 3D upconversion, early sales data show that 2D ticket sales are outpacing those of 3D tickets for Green Lantern and Harry Potter and the Deathly Hallows: Part 2.
Signs of trouble actually came a few weeks ago, when only 46% of the opening weekend haul for Pirates of the Caribbean: On Stranger Tides came from 3D theaters, despite 3D and large format theaters comprising 66% of the venues in which that film opened. That was a pretty significant disparity, and an indication that moviegoers might be wising up to the fact that most 3D version add little visually and can even detract from one's enjoyment of the film (this despite the fact that Pirates was shot natively in 3D). Around that time, Kung Fu Panda 2 also performed below expectations on the 3D front. In the meantime, RealD's stock performance hasn't exactly been thriving.
A new report comes courtesy of BTIG (via THR) speculates that we might be seeing the trend continue with advanced ticket sales for Green Lantern and the new Harry Potter. According to analyst Richard Greenfield, Fandango's sales trend data shows that Green Lantern 2D tickets are outselling 3D tickets despite a "massive 3D promotional push" for Lantern. The same appears to be true for Harry Potter, whose 2D tickets are dominating the charts. Furthermore, Greenfield elaborates:
We continue to believe U.S. consumers are frustrated with the amount of 3D movies Hollywood is producing, especially when combined with excessive ticket prices...In addition, we suspect the darkness of 3D is starting to impact movie satisfaction (this was a key problem with Pirates 3D, with both Green Lantern and Potter starting off with darker imagery and then layering on 3D glasses that darken the images further).
Time to rethink the dimensionality of your 2012 summer schedule, movie studios.