Luke Evans Is Bard The Bowman In 'The Hobbit'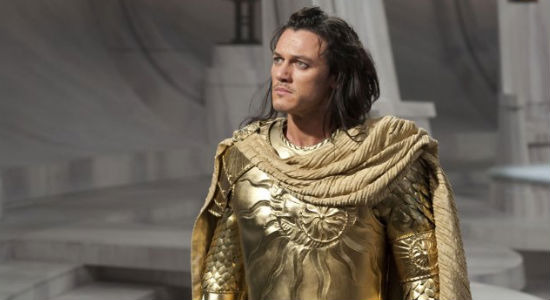 The rightful heir to the throne of Dale and eventual slayer of the dragon Smaug, Bard the Bowman is one of the key roles in J.R.R. Tolkien's The Hobbit. Director Peter Jackson has been filming the two-part, 3D adaptation of the classic book for several weeks now but had yet to announce who would play this pivotal character. We've now learned that Luke Evans, best known for roles in Ridley Scott's Robin Hood and Clash of the Titans, has been cast as Bard. Evans is an up and coming actor whose roles in the upcoming The Three Musketeers and Immortals have primed him for a trip to Middle Earth.
Deadline broke the news of the casting and point out that Evans was due to land a major role like this. He was in the discussion to star in the new Bourne film, The Bourne Legacy as well as play Tom Buchanan in The Great Gatsby but lost out to Jeremy Renner and Joel Edgerton respectively.
In The Hobbit, Bard the Bowman isn't as important a character as, say, Bilbo or Gandalf, but he's on the next level. Because of that, and because of Jackson's two-part structure, it's safe to surmise that he'll have a much bigger presence in The Hobbit: There and Back Again when it's released on December 13, 2013.
Jackson has certainly shown that he is skilled at casting young warrior types, as he basically made (or rejuvenated) the careers of Viggo Mortensen, Orlando Bloom, Dominic Monaghan and others with the original Lord of the Rings trilogy. It seems like Evans fits into that mold: a man's man kind of actor that can control the screen and win hearts and minds because we aren't yet too familiar with his work.
What do you think Evans' casting? Was there ever any doubt in Jackson's ability?