Kate Winslet And Josh Brolin Lead Cast Of Jason Reitman's 'Labor Day'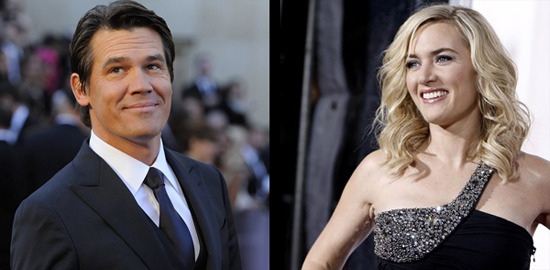 Jason Reitman has quickly crafted a significant directorial resume — Thank You For Smoking, Juno (reject the blowback — it's a sweet, effective movie), and Up in the Air — and he has already wrapped his fourth movie, the Diablo Cody-scripted Young Adult. Now he is getting ready to work on his fifth, which will be an adaptation of Joyce Maynard's novel Labor Day.
Last year Josh Brolin was rumored to have a role in the film, and now we have word that Kate Winslet will be one of the other leads.
According to EW, Kate Winslet is set to star in Labor Day, and Josh Brolin's participation is confirmed as well. The mag says they'll be "a lost, lonesome mother and an escaped convicted murderer who takes refuge with her and her young son."
For further detail, we'll shamelessly crib from EW. (I haven't read the novel, so can't offer better personal perspective than they can.)
Set in the early '80s over the late summer holiday weekend, Labor Day opens with divorced, depressed single mom Adele clothes shopping with her 13-year-old son, Henry. They encounter a large, fearsome man — who also happens to be bleeding badly. He asks for a ride, and against all judgment, they give him one. Are they hostages, accomplices... or just deluded? As police search town for the escaped convict, the mother and son gradually learn his true story and their options become more and more limited.
I have to say that I'm really liking the sweep of Kate Winslet's recent career choices. She's got great work Mildred Pierce recently behind her, and has roles in Roman Polanski's Carnage and Steven Soderbergh's Contagion, both of which we'll hopefully see this year. And with the exception of Jonah Hex, it's difficult to find much fault with Josh Brolin's choices in the last few years, too.