J.K. Rowling Launches Mysterious 'Pottermore' Website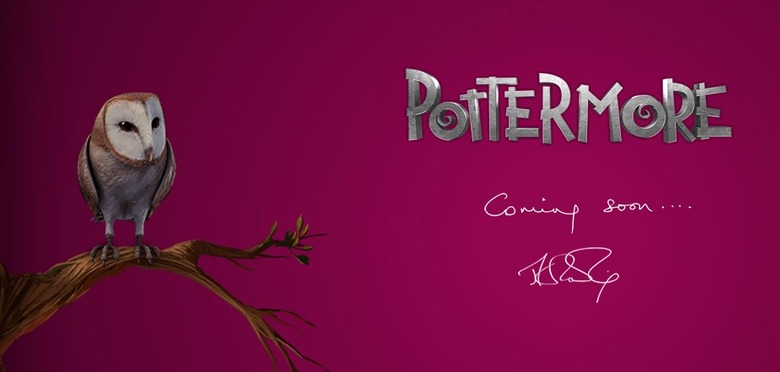 Though the book series has long since ended, and there's only one month to go until the eight-part film series closes as well, fans who have been mourning the end of the Harry Potter franchise can perk up again. A mysterious new website called Pottermore.com suggests that we may be getting, yes, more Potter sometime in the future — though in what capacity we'll be getting more Potter is not yet quite clear. Harry Potter author J.K. Rowling launched the cryptic website yesterday, one month ahead of Harry Potter and the Deathly Hallows: Part 2's July release. Read more after the jump.
At present, the website only shows a Pottermore logo, some cute owls, a promise of more "Coming soon," and Rowling's signature against a dark pink background. A related YouTube page is slightly more forthcoming with clues: more owls, an enigmatic message saying "The owls are gathering... Find out why soon," and a countdown clock displaying the days, hours, minutes and seconds until Rowling makes her big announcement. If I'm doing the math correctly, it appears we can expect to get the news June 23 at about 2 AM Eastern Time.
The only certainty at this point is that the announcement will not be a new Potter novel — both her lawyer and her PR team have confirmed as much to press. However, The Telegraph reports that Warner Bros. snapped up the Pottermore trademark last January, filing a registration that covered its use for "games, chatrooms, film clips and literacy programs." The evidence strongly suggests that Pottermore.com may end up being some sort of central website for fans; indeed, The Telegraph also writes, "It is rumored that the interactive site will be a meeting place for fans offering games, a Harry Potter encyclopedia, readings by Stephen Fry and competitions. Fans will also be able to buy the books."
Whatever it is, a few lucky fansites who've been treated to sneak previews have already been talking it up. An HPANA.com editor praised it as "breathtaking in scope, detail and sheer beauty," while The Leaky Cauldron called it "equally exciting" as a new book, and "one of the most amazing, engaging and breathtaking additions to this fandom imaginable." It also happens to be a helpful marketing push for Harry Potter and the Deathly Hallows: Part 2, which opens July 15.
Check back next week to find out what all the fuss is about — and in the meantime, feel free to speculate in the comments below.