Hugh Jackman In Talks For Tom Hooper's 'Les Miserables'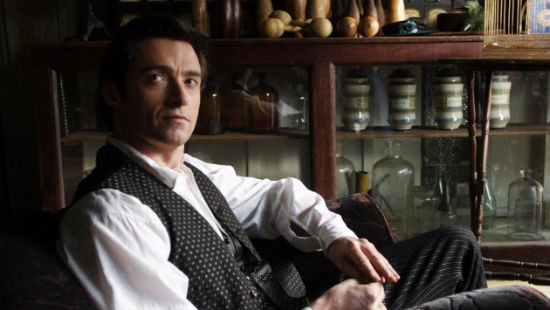 Perfect casting. Hugh Jackman is currently in talks to star in Tom Hooper's upcoming musical adaptation of Les Miserables, and while we don't know which role it's for yet, it's perfect casting either way. For most of us, Jackman is best known as the clawed mutant Wolverine but his true passion lies on the stage, where he's a Tony award winning actor who can sing and dance. Now imagine combining the gritty nature of Wolverine with singing and dancing (but not in a campy way) and you'd have either Jean Valjean or Javert, the two male leads of the classic story by Victor Hugo which was famously turn into a Broadway standard. Read more after the break.
Variety is on fire today, as this was another exclusive of theirs. They're quick to point out that while Jackman is currently in talks to star in the film, it isn't clear whether it's for the protagonist Valjean or antagonist Javert. Both roles are meaty and equally ambiguous, though, as Valjean is a an escaped convict who is chased for decades by the lawman Javert during the French Revolution. (I'd wager it's Valjean, but that's just me.)
Universal is putting together the project and once they locked Hooper, the most recent Best Director Oscar winner, they've been pushing the it hard. Jackman had a significant gap in his schedule open up once The Wolverine, which was supposed to be shooting by now, fell apart. Though he's been attached to several different projects and turned down others, this one comes with a high pedigree and a finished script by Bill Nicholson.
In my eyes, Jackman has always seemed more comfortable in period pieces like The Prestige or Australia rather than modern films like Wolverine or Real Steel. He's just a classic kind of guy. Combine that with the fact that he'll have to sing and act and, while it's still just in talks, I really don't see how he'd pass this one up.
What do you think?