New Paul Feig/Judd Apatow Film Might Star Jon Hamm And Melissa McCarthy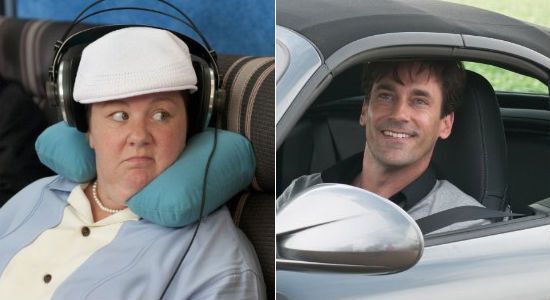 Once you have a big, box office smash, a filmmaker is more or less given carte blanche, especially if they want to make a movie in the same genre. Bridesmaids director Paul Feig used some of that good will last week and got Universal to purchase a new pitch that would once again team him with frequent producer Judd Apatow. At the time, we had no idea what the film would be other than "an unconventional love story." Deadline now seems to know more and says the lead roles in film are being kept warm for Jon Hamm and Melissa McCarthy.
Deadline says the film is about "a guy who becomes obsessed with a woman" and that the template for the guy is Jon Hamm and the template for the woman is Melissa McCarthy. So, basically, it's about a very attractive guy who falls for a girl with a great personality. We know what you're saying.
The piece is quick to say that no negotiations have been set in motion and things are all still very early (we aren't even sure if there's a script yet) but since Hamm and McCarthy were both in Bridesmaids, Hamm loves to do comedy and McCarthy is currently hot in Hollywood, it seems logical that they'd eventually fill these rolls.
For arguments sake, if Hamm and McCarthy are just the archetypes for the characters in this new Feig and Apatow production, who else could play those roles well?