Superhero Bits: Batman Live, Captain America, Fantastic Four, Green Lantern, Stan Lee, Powers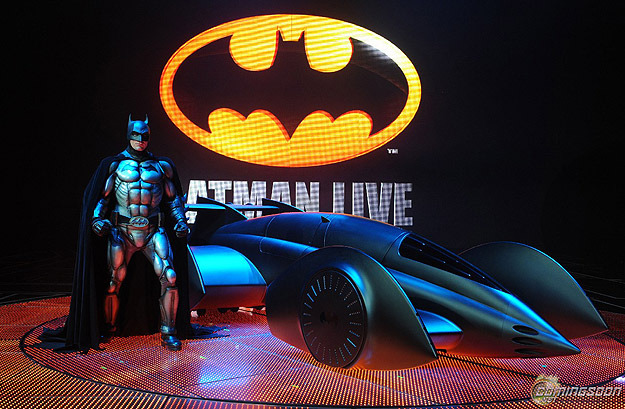 What's the name of the USO montage song in Captain America The First Avenger? How can you get Marvel to bring a VIP screening of the film to your town? Does Mr. Fantastic, Ioan Gruffudd, think a new Fantastic Four reboot is a good idea? Want to see what the Batman Live Batmobile looks like? What does the cover of Batman Arkham City look like? And what happened to the second page of yesterday's column? Find out all that and more over three epic pages of Superhero Bits!
The second page of yesterday's Superhero Bits got screwed up when we published it. Sorry about that. Here it is, once again.
Though she was fired a few months back, Julie Taymor showed up at the premiere (yes, finally, the real premiere) of Spider-Man: Turn Off the Dark. Though it went though a myriad of chances since she left, the reviews are still pretty lukewarm, though most admit the show improved with the changes. But when you're changing something god-awful, it's hard not to get better.
The show still lacks a unifying look and tone. Its mish-mash of 1940s styles with contemporary references is a jarring choice that makes many jokes fall flat.
And that's not even talking about the character himself.
Video, and photo described below...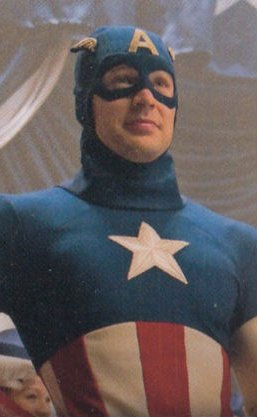 Captain America: The First Avenger is right around the corner and while we already know what his normal action suit is going to look like, the above photo, and video, show off the horribly geeky USO outfit that Steve Rogers has to wear in the film. There are even more new, small photos over on Comic Book Movie.
Speaking of Captain America: The First Avenger, there seems to be quite the hubbub about this GQ profile with Chris Evans mostly because the journalist, who spent a lot of intimate time with the actor, wrote a feature that – as Media Bistro put it – "reads like a diary entry from a girl with a serious crush on a celebrity." Here's an example:
Since we're both single and roughly the same age, it was hard for me not to treat our interview as a sort of date. Surprisingly, Chris did the same, asking all about me, my family, my job, my most recent relationship. And from ten minutes into that first interview, when he reached across the table to punctuate a joke by putting his hand on top of mine, Chris kept up frequent hand holding and lower-back touching, palm kissing and knee squeezing. He's an attractive movie star, no complaints. I also didn't know how much I was supposed to respond; when I did, it sometimes felt a little like hitting on the bartender or misconstruing the bartender's professional flirting for something more. I wanted to think it was genuine, or that part of it was, because I liked him right away.
Eventually, she does get around to talking about Captain America but, yeah, it's a weird read.
The trailers for Green Lantern have shown Hal Jordan fight Kilowog, but, we never saw how they filmed it in green screen. Hear the humorous story of Ryan Reynolds' giant problem during filming that scene in the above clip from the Late Show With David Letterman.
Collider did a great interview with Green Lantern director Martin Campbell, co-screenwriter Greg Berlanti and producer Donald De Line in which they discussed a ton of different things: the actors, the script, shooting, the mythology and more. Basically it answers a ton of questions including, why choose Hal Jordan:
Hal Jordan being the first human that was picked to be a Green Lantern, and that is a big part of this story. The audience puts themselves in Hal Jordan's shoes, and that's what makes it a really interesting, powerful story, and a good way to introduce it to the world. That was a big part of the decision.
Due to the amount of graphics and images included in Superhero Bits, we have to split this post over THREE pages. Click the link above to continue to the second page of Superhero Bits.
And now back to your regularly scheduled Superhero Bits.
We reported on it yesterday, but it was just in passing, so we figured we'd mention again. Though Russell Crowe won the role of Jor-El, The Hollywood Reporter said that both Sean Penn and Clive Owen were considered for the role.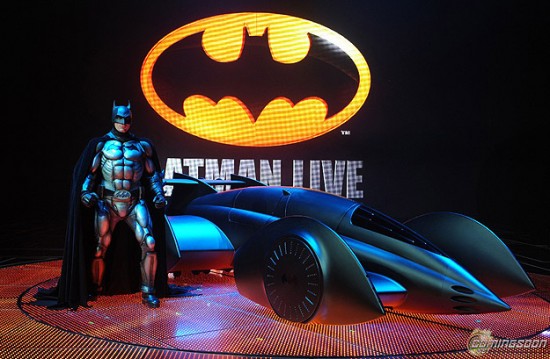 If there was any doubt that Batman Live was gonna look good, put those thoughts to bed. Check out this look at the Batmobile from the live show, thanks Superhero Hype. They have more photos from the event there too.
Tags: Movie Trailers, Movies Blog
Want to get your significant other to see Green Lantern but don't want to explain the whole thing to them? Let the stars of the film themselves do it in the video above put together by MTV.
"The Star-Spangled Man (With a Plan)" is a brand new song by Alan Menken and David Zippel that'll be featured in Captain America: The First Avenger. Here's what Zippel told Playbill.com about the song:
It's a montage, and it's before he's actually Captain America, [He's] in the process of becoming him. It shows him in these war bond presentations around the country over a series of time. It's very period, and Alan and I had a really good time doing it. It's sort of the Army band [and] a USO group singing.
LA Times Hero Complex writer Geoff Boucher had this to say about Marvel and Comic Con: "The reports that Marvel is "sitting out" Comic-Con are incorrect." Awesome.
One of the cool superhero games at E3 last week was Gotham City Imposters, a sort of Batman spin-off that'll be downloadable. Forever Geek has a nice gallery of images from the game and the above trailer. Very cool.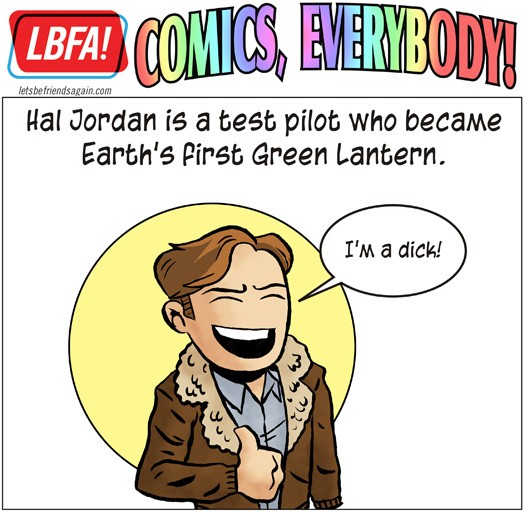 Holy crap this made me laugh. That's the first frame of a quick Green Lantern comic strip by Curt Franklin and artist Chris Haley over on Comics Alliance in which they describe the history of the franchise. Fantastic stuff.
Powers, the comic book series by Brian Michael Bendis and Michael Avon Oeming, about police detectives that investigate superheros will shoot it's first pilot episode for FX in a few weeks. Bendis said this when talking to Newsarama:
It's very, very exciting. We're designing, we have costumes, we have sets. It's really underway. It's not one of those bullsh*t announcements you'll have to sit through all the time, trying to figure out if it's real.
Due to the amount of graphics and images included in Superhero Bits, we have to split this post over THREE pages. Click the link above to continue to the third page of Superhero Bits.
The on-screen Mr. Fantastic, Ioan Gruffudd, did an interview with the Digital Spy, which was then excerpted by Comic Book Movie, discussing the rumored Fantastic Four reboot, Chris Evans as Captain America and more. Here's one example:
I'm trying to put my finger on what happened [with Fantastic Four]. It seems to me, that Marvel as a studio are now making their own stuff and having great success with it. I think two of the franchises, Fantastic Four is owned by Fox and Spiderman by Sony – so that's why Sony, I guess – are trying to get as much bang for their buck [by rebooting], because they still have the franchise. I suppose the same idea that Fox had with ours and the possibility of appealing to an older audience, maybe they wanted to rebrand, repackage and make it darker than it was originally. Originally it was a much lighter version.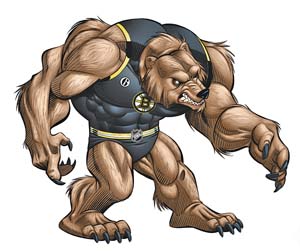 Stan Lee has teamed with NBC Universal to spread The Guardian Project into various media, according to Variety. It's a superhero series featuring different characters for each of the 30 NHL teams. That's the Stanley Cup winning Boston Bruins character above.
Has Zack Snyder fallen out of favor with Warner Bros.? That's the question posed by Twitchfilm as they analyze an article by Variety about the Russell Crowe Man of Steel casting. It's an interesting take, but I think they're looking too much into it.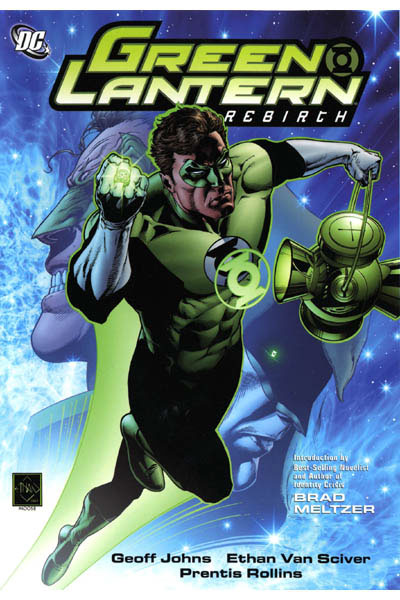 What are the best Green Lantern stories out there? MTV Geek News has ranked their top ten and Rebirth, above, is #10. Be warned, some of the images are spoilery if you don't want to know about the Green Lantern character before the movie.
Visa Signature is holding a contest where you can vote on what city you'd like Paramount and Marvel to bring an early VIP screening of Captain America: The First Avenger. Of course, New York is currently leading, but that's no fun.
One of the most anticipated upcoming games is Batman Arkham City, the sequel to Arkham Asylum, and that above is the new cover art thanks to Superhero Hype. Thoughts?