Sony Buys Joseph Kahn's 'Detention'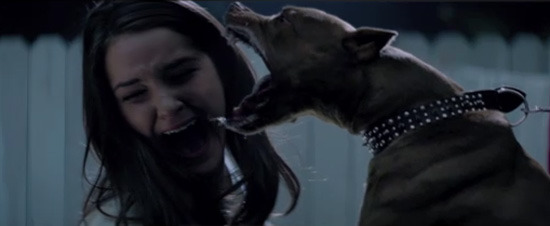 At first glance, Joseph Kahn's Detention looks, as  I've said before, like it might be just a "post-Scream meta-slasher movie." But the trailer we saw for the film suggested that it is a lot more than that, or at least a lot more crazy than that. Reviews out of SXSW, where the film premiered, were slightly mixed, but the enthusiastic ones were very enthusiastic. In short, I'm hoping that Detention will be a movie that can satiate my hunger for a wild genre movie in the same way that Attack the Block satisfies as a teen-oriented summer sci-fi thriller.
We'll all get to see Detention sometime in the coming months thanks to Sony Pictures Worldwide Acquisitions, which has picked up all rights to distribute the film.
A press release and a THR news break offer up the news, and the press release giddily repeats one summarization of the film: "an apocalyptic, body-swapping, time-traveling teen romantic comedy." (Those who follow the director's entertaining Twitter feed or have heard his /Filmcast appearances know that his own use of the phrase might be a bit tongue-in-cheek. But it still works.)
We don't have a release date yet, but when one is announced (hopefully with another trailer) we'll pass it on.
Written by Joseph Kahn and Mark Palermo, Detention stars Josh Hutcherson, Dane Cook, Shanley Caswell, Spencer Locke, Aaron David Johnson, Walter Perez, Erica Shaffer, Parker Bagley, and Alison Woods. Bryan 'Brain' Mantia, aka drummer for Primus, Tom Waits and more, composed the score.
Detention is a teen horror-comedy where the local students of Grizzly Lake must survive their final year of high school. Standing in their way is a slasher movie killer who has seemingly come to life. It becomes a race against time to stop the killer and save the world – if only they can get out of detention. The Detention cuts through prom. Most of them don't have dates anyway.