'Moneyball' Trailer Starring Brad Pitt And Jonah Hill [EW Premiere]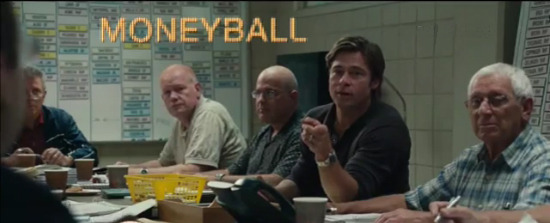 Editor's Update: Entertainment Tonight has aired the full trailer for Moneyball (with only minor annoying voice over). Watch it now embedded after the jump. Thanks to /Film reader Eric B for the tip.
If you wind the clock back to mid-2009 and took a look at /Film you'd find the film Moneyball as one of our most-covered topics. The film took an unusual path to the screen when Steven Soderbergh's version of the movie was canned at the last minute by Sony chief Amy Pascal. The movie was shopped to other studios, which passed on it, and Soderbergh soon left the project. Several writers worked on the project, but eventually there was a Steve Zaillian draft rewritten by Aaron Sorkin, which then got a last polish from Mr. Zaillian before Bennett Miller came on to direct the movie.
Throughout the process, Brad Pitt was set to play Oakland A's GM Billy Beane, who worked with a young statistician, eventually played by Jonah Hill, to revamp the hiring process for the A's. They built the cheapest winning team in baseball, and their approach certainly did change some of the business practices behind the game. Now a trailer is about to hit for Bennett Miller's version of the film, and the firt clips of footage debuted on ET last night. Check out that montage after the break.
Updated Full Trailer
It is difficult to get too much of an idea of how this will play, but after all the drama of just getting the film made, I'm happy to see any footage at all. I'm looking forward to seeing the interaction between Jonah Hill and Brad Pitt, and between Philip Seymour Hoffman and Pitt, too. And if you're not a baseball fan, take into consideration that this probably won't be packed with on-field action, as the drama of Moneyball is all in the behind the scenes moments.
Sorry about the irritating talking heads and voiceover, but until we've got a real trailer I'm willing to put up with them to get a look at the film.
[Video Removed]
Moneyball opens on September 23. [The Playlist]