Ben Affleck Will Force 'Argo' Cast To Live Like Hostages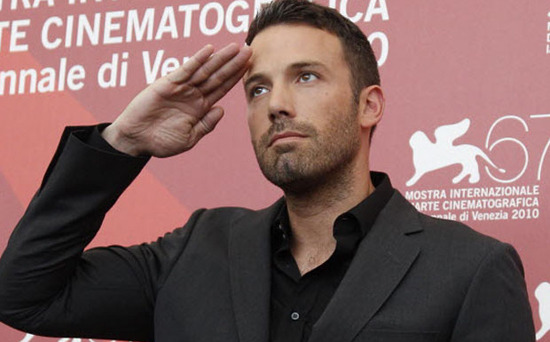 And with his third film, director Ben Affleck channeled Alfred Hitchcock. Hitchcock famously said that actors should be "treated like cattle" and Affleck, who previously directed Gone Baby Gone and The Town, will be herding six actors from his upcoming film Argo into a house and forcing them to live like hostages for two weeks. Over those two weeks the actors will rehearse and, hopefully, feel as helpless as their real life counterparts who were trapped in Tehran during the Iranian Hostage Crisis in 1979. Ultimately, they were extracted when the CIA made it look like they were working on a fictional film. Read more after the break.
Vulture exclusively broke the news of Affleck's pre-production plans. There's no word on which actors will have to suffer the sure-to-be brutal two week rehearsal process although Affleck himself will star in the movie as will Alan Arkin, both in non-hostage roles. All other roles have yet to be announced.Argo is based on a Wired article from 2007 that was summarized as follows:
The story is a CIA rescue mission during the Iran Hostage Crisis, when six American embassy staff escaped the compound and were on the lam in Tehran for months — until the CIA rescued them by creating a fake Hollywood production company and pretended to be in Iran location scouting for a big-budget sci-fi epic. I swear, it's all true. The CIA even got an office for their fake production company at Sunset/Gower studios, had a script and concept art, and took out ads in Variety.
The script was written by Chris Terrio and it'll be produced by George Clooney and Grant Heslov. Affleck will reportedly play "a CIA hostage extraction expert named Tony Mendez" who came up and executed the crazy idea of pretending to make a movie in order to extract American hostages. Arkin is "Lester Siegel, the OSS agent turned film producer who is key to the plan."
There's more about the film in the two articles we've written about it previously.
It seems that Affleck is really going for it with this one, knowing that he was very close to breaking through the Academy Awards barrier with The Town. Maybe, if he gets real gritty and realistic with Argo, this time he'll crack that elusive sweet spot of critical and audience adoration.