Photo Of The Boys Back Together For 'American Reunion'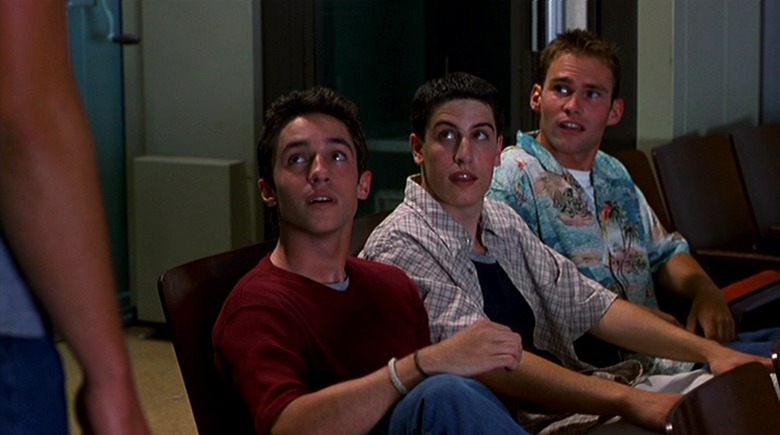 Remember that movie? American Pie? Well they're making a fourth one and they've got everyone back (unlike the terrible third movie or the slew of direct to DVD follow ups). Written and directed by Jon Hurwitz and Hayden Schlossberg, the guys behind the Harold and Kumar series, American Reunion is set ten years after the first film and sees the characters returning to Michigan for their – you guessed it – ten year high school reunion. After the jump, we'll recap what we already know about the film and show your first look at Jim (Jason Biggs) Kevin (Thomas Ian Nicholas) Finch (Eddie Kay Thomas) and Oz (Chris Klein) in a very familiar location.
The photo came online thanks to Thomas Ian Nicholas's Twitter account (via Collider). Check it out.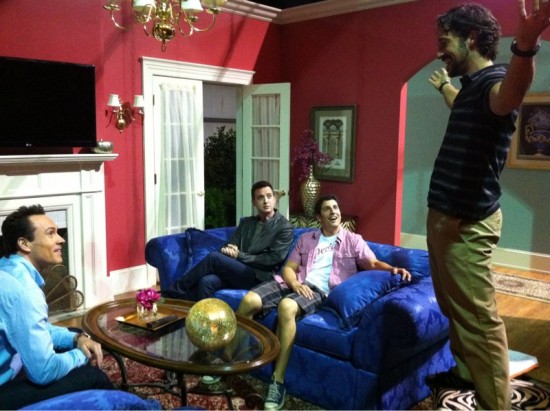 That's the four best friends back together in the house they made the virginity pact in from the first film. Kevin is even standing in the same spot. The accompanying message said "Remember the pact? Here we are over 10yrs later. Crazy."
It is kind of crazy that this film is happening now but the ideas that we're heard are in the film are pretty decent. Here's a sampling from a previous article, which should be considered SPOILERS.
The film will center around the gang's ten-year high school reunion.
Oz (Chris Klein) is a big shot with a Malibu mansion and a girlfriend who seems to be a gold-digger.
Heather (Mena Suvari) is dating a middle-aged surgeon who tries to act younger than his age.
Stifler's (Seann William Scott) life has gone down the drain — he's unhappily working as a temp, and isn't getting laid much. He avoids going to the reunion. At one point, he sleeps with Laurie, a "former hottie" who's gained weight.
Finch (Eddie Kaye Thomas) is an "international traveler" and will be scoring with Trish, a bartender who used to go to band camp with Michelle.
Stifler's Mom (Jennifer Coolidge), the original MILF, will be making an appearance.
Jim (Jason Biggs) is still married to Michelle (Alyson Hannigan), but his next-door neighbor has a crush on him — and her long-term boyfriend isn't happy about it. Meanwhile, his sex tape with Nadia (Shannon Elizabeth) has gone viral on YouTube.
When we first ran those tidbits, they were mostly rumors, but quotes from Alyson Hannigan and an open casting call have confirmed that several are correct so it's safe to assume the rest are too.
American Reunion is scheduled for release April 6, 2012.