Greta Gerwig And Eva Mendes In Talks For 'The Place Beyond The Pines'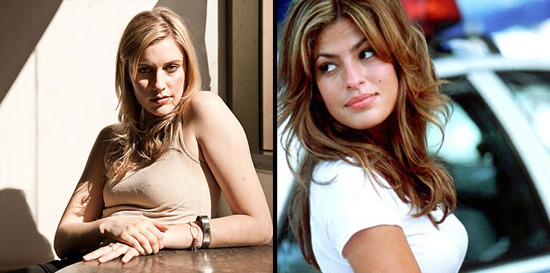 Two-thirds of the topline creative team of Blue Valentine, director Derek Cianfrance and actor Ryan Gosling, are reuniting for the film The Place Beyond the Pines. Called a "multi-generational crime drama," the film features a motorcycle stuntman who supports his son by robbing banks, played by Ryan Gosling, who finds his opposite number in police officer Bradley Cooper. Their conflict spirals into something that defines multiple generations.
Derek Cianfrance has drawn inspiration from Jack London and has compared his new film vaguely  to The Deer Hunter. Now he's moving closer to a place where he could realize that ambitious comparison by expanding the film with a great female cast. Eva Mendes has signed for one role, and Greta Gerwig is circling another.
Deadline says that Eva Mendes will be the love interest of Ryan Gosling's character, and presumably the mother of his child, while Greta Gerwig continues to blur the line between indie darling and emerging mainstream star by negotiating to play Bradley Cooper's wife.
If anything, scheduling might be an issue, as Greta Gerwig starts shooting Lola Versus this week in New York, and The Place Beyond the Pines is set to shoot next month, but since it is also shooting in New York state, hopefully any schedule conflicts can be managed without too much fuss.
And to refresh on some of the things that have been said about the film, here's what Derek Cianfrance said a while back:
I have a film called The Place Beyond the Pines, which is all about fathers and guns, and it has motorcycles and guns in it... It's kind of an epic movie. It takes place over a couple of generations and it's kind of a crime story, kind of a mystery. I've had people tell me they feel like its 'The Deer Hunter' meets 'The Godfather.'