Rumor: First Trailer For Martin Scorsese's 'Hugo Cabret' Attached To New 'Harry Potter'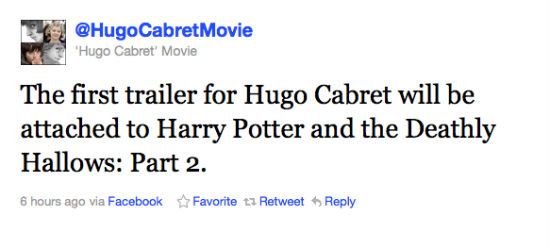 The tweet pretty much says it all. As if you needed another reason to head to the theater on July 15, the first look at director Martin Scorsese's 3D family film Hugo Cabret could possibly be attached to Harry Potter and the Deathly Hallows Part 2. However, while the tweet looks legit, it should be considered a rumor. Paramount confirmed that the @HugoCabretMovie Twitter account, and accompanying Facebook, are not official, but they did not deny the news of the trailer attachment.
Based on a famous book by Brian Selznick, Hugo Cabret stars Asa Butterfield and Chloë Moretz as an orphan boy and strange little girl who become friends in a Paris train station. Scorsese, as he tends to do, has put together a dynamite supporting cast including Sacha Baron Cohen, Ben Kingsley, Christopher Lee, Emily Mortimer, Jude Law, Michael Stuhlbarg, Ray Winstone and more. It's scheduled for release November 23.