Andrew Adamson Producing Comic Book Adaptation 'Beasts Of Burden'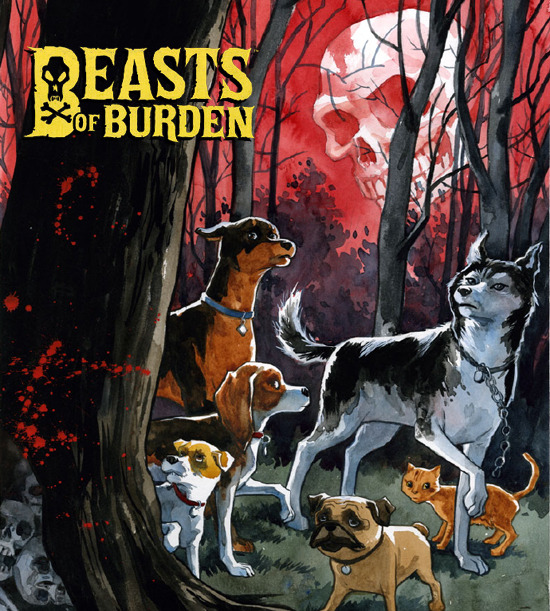 The old indie comic nerd in me is pretty happy to see an Evan Dorkin and Jill Thompson book being optioned and developed for a feature film. The source material is Beasts of Burden, and the plan is for Reel FX, a company  started by ex-ILM and Walden Media execs, to produce a CGI animated film, with Andrew Adamson producing.
THR says that Andrew Adamson, who directed the first two Shrek films and the first two Narnia films (which were both Walden Media productions, which is probably the link to this project) is producing the adaptation, but does not say whether he will be credited as director. Keith Goldberg from Dark Horse Comics is exec producing, while Jared Mass will produce for Reel FX.
The comic is "set in a community called Burden Hill where a series of supernatural events occur, causing a gang of dogs (and one cat) to team up in order to keep their owners and the town's residents safe." It is material that would probably make for a very audience-friendly film, and Andrew Adamson's Shrek experience suggests he's a good fit for the project.
Here's a bit of gushing over the title from Publisher's Weekly:
Burden Hill looks at first glance to be the epitome of the idyllic suburb, but unbeknownst to its human populace the place is rife with all manner of supernatural menaces, both great and small. Werewolves, hauntings, black magic covens, and less easily defined things that go bump in the night wreak havoc just under the radar of man's perception, but do not go unnoticed by the unlikeliest occult protectors of all: a group of household pets comprising several dogs and a stray cat. These four-footed paranormal investigators, occasionally aided by "wise dogs" trained in the arcane arts, take on all comers with devotion and diligence. Dorkin's clever writing and Thompson's charming painted art effortlessly draw in readers–Thompson's realistic take creates a full world to get immersed in. Loaded with fun in every panel, this series has massive crossover appeal for those who enjoy horror, humor, and stories about endearing animal characters.