Disney's Cars-Spinoff 'Planes' Teaser Trailer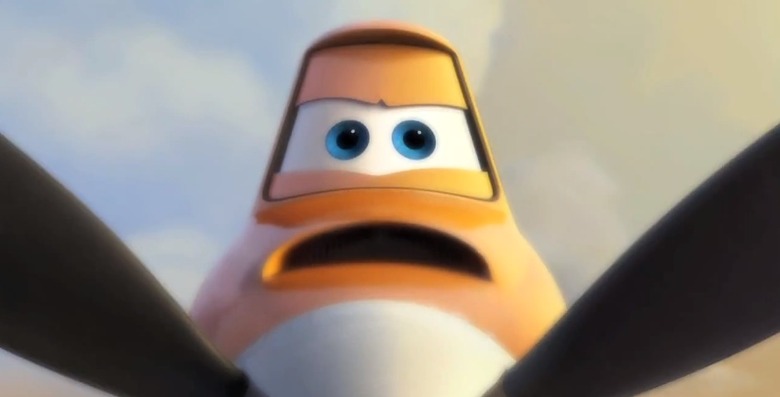 Last year, it was revealed that Disney was developing a film called Planes, a direct-to-DVD computer animated spin-off from Cars. Its notable that while the trailer mentions the story takes place "from above the world of Cars", the teaser has no mention of Pixar AT ALL. Even the Disney-Pixar production company logo above the movie title only reads "Disney". The movie was produced by Disney Toon Studios, the outfit behind many DVD sequels for Disney films.
Remember the last time Disney began doing direct-to-dvd spin-off/sequels of their classic animated films? Yeah, that was a disaster — a disaster that John Lasseter ended in 2007. Well it looks like the mouse house needs more money and Lasseter is on board.
I'm sure Pixar wants no credit what-so-ever. I have no interest what-so-ever in seeing this movie. Watch the one and a half minute teaser trailer embedded after the jump. Please leave your thoughts in the comments below.
Official Information:
PLANES will introduce an entirely original and hilarious crew of daredevils from every corner of the globe and draws inspiration from the immensely popular Disney/Pixar's CARS world.
"We had such a great time exploring the world of 'Cars' over the course of two films, so it seemed only natural for us to see where our imaginations would take us in a film where planes were the main characters. By expanding the Cars world, 'Planes' gave us a whole new set of fun-filled situations and a great opportunity to introduce some fantastic new characters," commented John Lasseter, Chief Creative Officer, Walt Disney and Pixar Animation Studios.
"The team at DisneyToon Studios has done such an amazing job creating a heartfelt story filled with great comedy, adventure, and emotion. I know audiences are going to love taking off into the wild blue yonder with these daredevil characters, as they experience a whole new kind of animated adventure."
PLANES takes off with an international cast of the fastest air racers around, in a comedy packed with action and adventure starring Dusty, a small town dreamer who longs to enter the most epic around-the-world air race ... despite his fear of heights. With the help and support of a fleet of new and hilarious characters, Dusty wings his way into the biggest challenge of his life.
Planes will arrive on Blu-ray and DVD in Spring 2013.