Christopher Smith And Xavier Gens Join 'The ABCs Of Death;' Director Contest Details Announced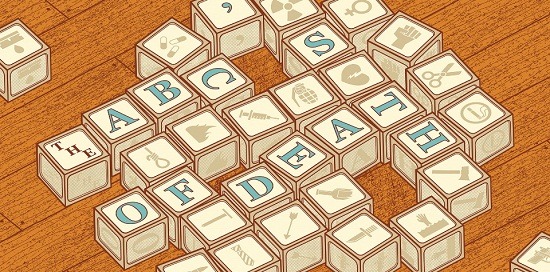 The horror anthology The ABCs of Death, inspired in part by early kids' books and bearing a real resemblance to Edward Gorey's The Gashlycrumb Tinies, is a who's-who of current horror and genre stars and up and comers. The film will be divided into twenty-six segments in which a letter of the alphabet corresponds to a method of death. The segments will be short, but given that they'll be directed by people like Nacho Vigalondo, Jason Eisener, Noburo Iguchi and many more, they might pack a punch.
Two more directors were added to the list today, bringing the total number of signees to twenty-five. Xavier Gens (Frontier(s), Hitman) and Christopher Smith (Severance, Triangle, Black Death) are now on the roster. Details of a contest to choose the final director are after the break.
First, here's the complete list of twenty-five (actually twenty-six, since there is one team unit) confirmed directors:
Kaare  Andrews (Altitude)
Angela Bettis (Roman)
Ernesto Diaz Espinoza (Mirageman, Mandrill)
Jason Eisener (Hobo With A Shotgun)
Bruno Forzani and Héléne (Amer)
Adrian Garcia Bogliano (Cold Sweat)
Xavier Gens (Frontiers, Hitman)
Noburo  Iguchi (Machine Girl, Robo Geisha)
Thomas Malling (Norwegian Ninja)
Yoshihiro Nishimura (Tokyo Gore Police, Frankenstein Girl Vs. Vampire Girl)
JT Petty (Soft For Digging, The Burrowers)
Banjong Pisanthanakun (Shutter, Alone)
Simon Rumley (The Living and the Dead; Red, White and Blue)
Marcel Sarmiento (DeadGirl)
Chris Smith (Severance, Triangle)
Srdjan Spasojevic (A Serbian Film)
Timo Tjahjanto (Macabre)
Andrew Traucki (The Reef, Black Water)
Nacho Vigalondo (TimeCrimes)
Jake West (Doghouse, Evil Aliens)
Ti West (House of the Devil, The Innkeepers)
Ben Wheatley (Down Terrace, Kill List)
Adam Wingard (Pop Skull, A Horrible Way to Die)
Anders Wulffmorgenthaler (Princess)
Yudai Yamaguchi (Yakuza Weapon, Battlefield Baseball)
Who's number 26? That's where you might come in. Just as Hobo With a Shotgun director Jason Eisener had his career launched when his trailer won a Grindhouse trailer competition, the final director for this anthology will be chosen from a field of public competitors.
Naturally, there are a few rules that define submissions.
The letter used for the competition is 'T,' so submitted films have to kill someone with, or hinge on something that starts with T. All have to be four minutes or less in length, and must open and close with a full screen of red.
Submissions are open now through October 1 at midnight PST. The finalists will be announced on October 31 and the winner, who gets $5000 and the winning submission added to the final film, will be announced on November 15.
Check the official website for more info.