JJ Abrams Says 'Mission: Impossible – Ghost Protocol' IMAX Footage "Is Looking INSANE"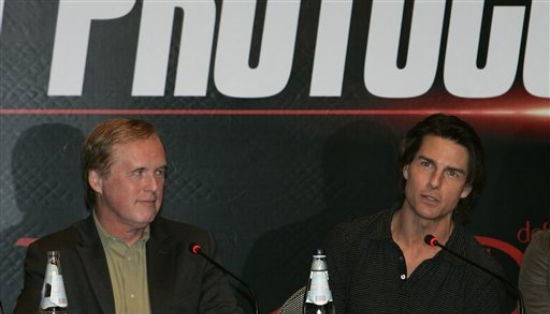 Over the weekend I attended a discussion between director JJ Abrams and composer Michael Giacchino held at the Hammer Museum. For those of you reading this that live in Los Angeles, note that Hammer holds simular events on a regular basis and tickets are free (first come first serve, which means waiting in line for an hour or two). The entire hour and a half discussion will go online later this week hopefully, and I'll post it on the site when it does. Nothing insanely newsworthy came from the discussion, but JJ did speak briefly about how Brad Bird's upcoming Mission: Impossible IV - Ghost Protocol.  Abrams gpraised Brad Bird as a live-action director and gushed about the IMAX footage. Read the quote, after the jump.
Someone who worked on the camera crew of Mission: Impossible IV asked how the movie was coming along, prompting JJ to joke that the footage was all out of focus. Abrams then said:
It's going great. Brad Bird directed an incredibly fun movie. To watch him do his first live-action movie is kind of surreal because you see these moments that are really funny, and specific and  about character — and you think, "WOW, that's so Brad Bird"... but then you think, "God, I've never seen a Brad Bird live action movie, ever." So its a weird thing to see stuff that feels... He's a great filmmaker who just happens to have been using the tools of animation. It's going great. And the IMAX footage in particular is looking INSANE.
And Michael Giacchino confirmed that he is scoring the movie, which had been previously reported.