'The Room' Co-Star Greg Sestero Writing Tell-All Book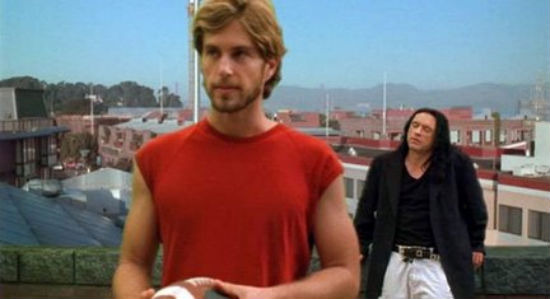 Tommy Wiseau's The Room is regularly considered one of the worst movies ever made, and its strange appeal is enhanced by the fact that it is equally as mysterious. In interviews Wiseau, who wrote, directed and starred in the epic train wreck, frequently talks around questions about the film's financing and production. More recently there was some question if he even directed the film at all. It's no surprise, then, that the resulting film has become a cult phenomenon, spawning bawdy, participatory screenings from coast to coast.
One of the men who was at ground zero for the disaster was Greg Sestero. Sestero played Mark, the main character Johnny's best friend who – spoiler alert – sleeps with Johnny's girlfriend, settling off the over the top and hilarious chain of events that makes up the film's plot. Sestero recently signed a deal with Simon and Schuster to tell his side of the story and his book, Locked Inside 'The Room' will be published in early 2013. Read more after the jump.
News of the book first broke in Publishers Weekly and Entertainment Weekly. Here's how the press release describes the book:
Locked Inside The Room will be the ultimate behind-the-scenes look at the making of "The Room," the cult film sensation hailed by Entertainment Weekly as "the Citizen Kane of bad movies." Illustrated with never-before-seen photos, the book will describe the movie's tumultuous production, reveal the film's myriad of mysteries, and provide a rare and intimate glimpse into the life of the film's enigmatic and egomaniacal creator, Tommy Wiseau. The authors are Greg Sestero, Wiseau's Room co-star who has known him for years, and Tom Bissell, acclaimed author whose Harper's Magazine piece on the phenomenon of The Room was published in 2010.
And here's Sestero's quote about it:
I'm looking forward to sharing the journey that led to The Room. Beyond the resulting, unplanned hilarity is a tale of heart, sadness and ultimate artistic heroism. It is a story just as surreal, baffling and entertaining as the film itself. As incomprehensible and bizarrely captivating as The Room is, its hilarious and brutal journey to fruition is even more fraught and revealing than expected. This book will provide the only intimate look into the film's eccentric and enigmatic creator, Tommy Wiseau, while exploring that which has made an otherwise otherwordly film, strangely, yet charmingly, universal.
Watch The Room once and it's fascinating. But what makes it unique is that, which each subsequent viewing, it just becomes more and more unbelievable that this film actually exists. I'm definitely curious to read a first hand account of how the whole thing went down, what about you?