Page 2: Super 8, Bill Murray, Real Steel, Tim Burton, X-Men, Harry Potter, Doctor Who, Banksy, Piranha 3DD, Wonder Woman, Jeffrey Katzenberg, Captain America, Game Of Thrones, Looney Toons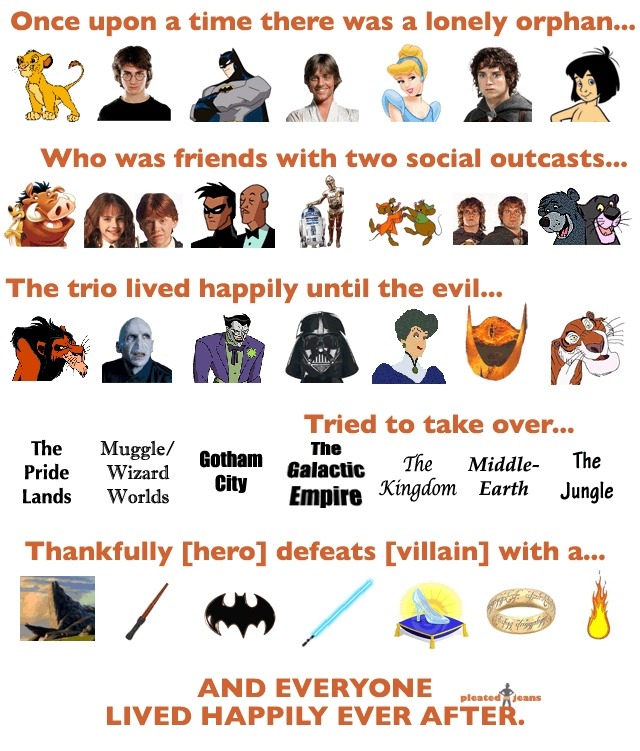 What is Page 2? Page 2 is a compilation of stories and news tidbits, which for whatever reason, didn't make the front page of /Film. After the jump we've included 46 different items, fun images, videos, casting tidbits, articles of interest and more. It's like a mystery grab bag of movie web related goodness. If you have any interesting items that we might've missed that you think should go in /Film's Page 2 – email us!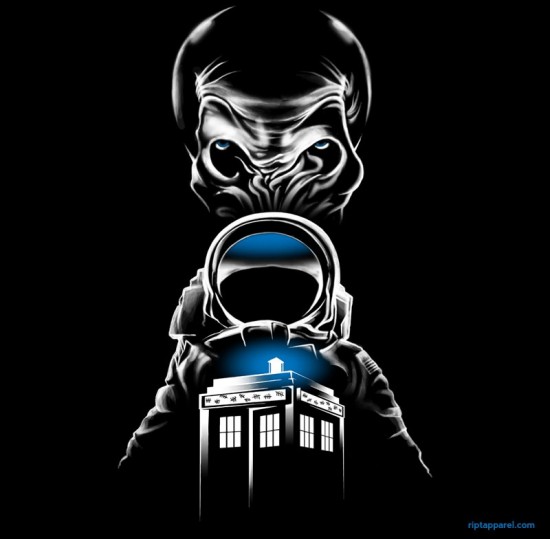 Today's t-shirt of RIPT Apparel is a Doctor Who-inspired design "The Impossible Astronaut."
Mini-Geek Deal: Fandango has Buy One Get One Free Movie Ticket for Visa Signature Cardholders.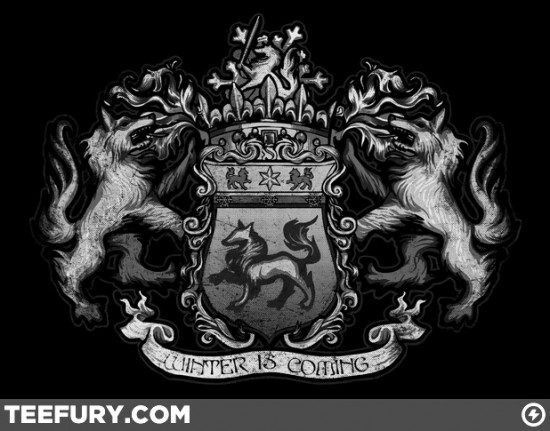 The t-shirt of the day on Teefury is a Game of Thrones-inspired design.
BuzzFeed lists 13 Things You Probably Didn't Know About Saved By The Bell.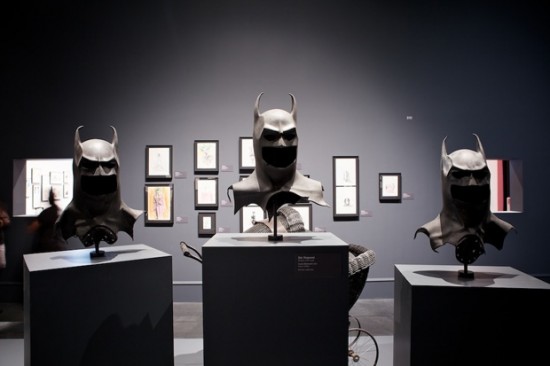 WildForMrToad has posted photos from their trip to the Tim Burton art exhibition at LACMA.Ranker lists the 7 Greatest (True) Johnny Depp Stories Ever Told.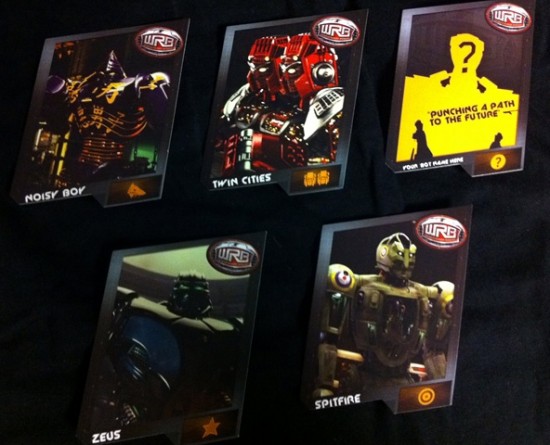 Viral marketing for Real Steel has been sighted at E3, with WRB trading cards being handed out to attendees.
Producers Kathleen Kennedy and Frank Marshall have come on board HBO's untitled WikiLeaks movie, and British screenwriter Rowan Joffe (The American) has been hired to write the script.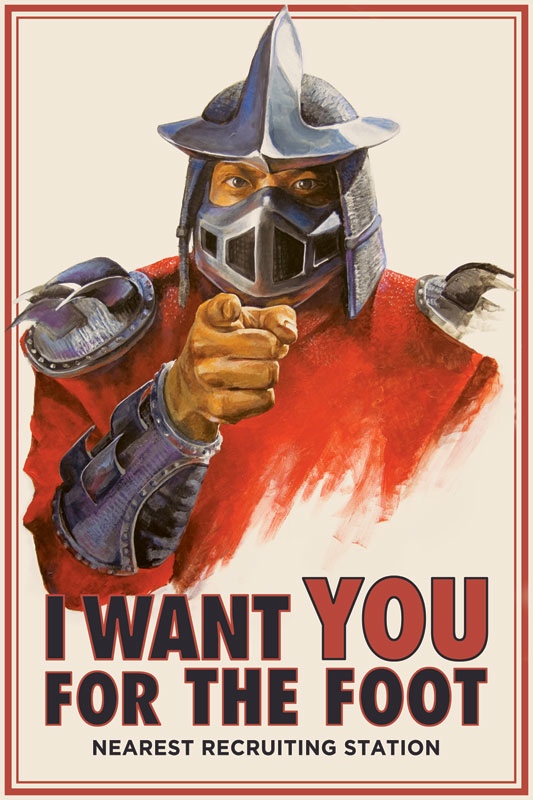 "I Want YOU!" by Brandon Schaefer and Emily Bawn. Prints on sale here.
Banksy is sponsoring free Monday admission for all visitors to L.A.'s Museum of Contemporary Art Musuem's Geffen Contemporary space in Little Tokyo for the duration of the exhibition "Art in the Streets," running through August 8th 2011. MOCA even provided a quote from Banksy himself: "I don't think you should have to pay to look at graffiti. You should only pay if you want to get rid of it."
Due to the amount of graphics and images included in Page 2, we have to split this post over a BUNCH of pages. Click the link above to continue the second page of Page 2.
Paramount Pictures has released the final video payoff of Super 8's viral campaign, a 6 minute video which reveals spoiler information about what escapes the crashed train.
The Stage Directors and Choreographers' Society has filed an arbitration claim against the producers of Spider-Man: Turn Off the Dark over claimed $300,000 in unpaid royalties due to the show's original director Julie Taymor.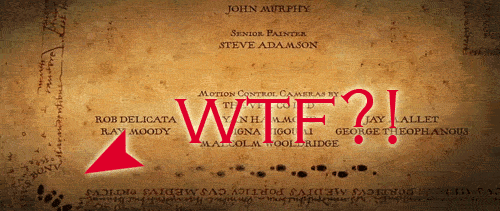 A couple of people are "up to no good" in the Marauder's Map of the closing credits in Harry Potter and the Prisoner of Azkaban.
UGO lists the Worst Last Films Of Great Actors.Jeffrey Katzenberg says that Hollywood is to blame for the slide in 3D box office grosses:
I think 3D is right smack in the middle of its terrible twos. We have disappointed our audience multiple times now, and because of that I think there is genuine distrust — whereas a year and a half ago, there was genuine excitement, enthusiasm and reward for the first group of 3D films that actually delivered a quality experience. Now that's been seriously undermined. It's not in any fashion, shape or form the demise of 3D, but until there are 3D experiences that exceed people's expectations, it's going to stay challenged. (He predicts Michael Bay's Transformers: Dark of the Moon will exceed expectations.) It's really heartbreaking to see what has been the single greatest opportunity that has happened to the film business in over a decade being harmed. The audience has spoken, and they have spoken really loudly.
A new iPad app named Fanhattan bills itself as the "starting point for entertainment discovery."
MTV has canceled the American version of the television series Skins.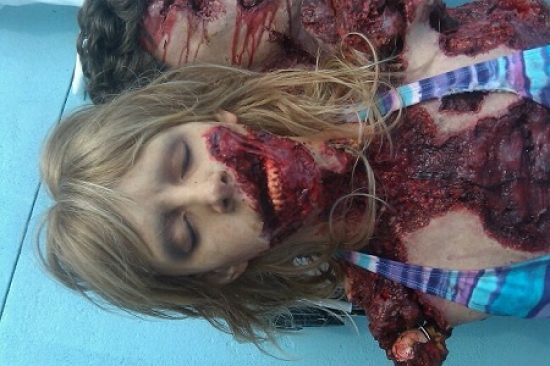 Arrow has photos from the set of Piranha 3DD.Shia LaBeouf confirms that he won't return for another Transformers movie: "I'm not coming back to do another one. I don't think Mike will either. It still is a hot property, I think, especially coming out of the third one. So I imagine they'll reboot it at some point with someone else."
Due to the amount of graphics and images included in Page 2, we have to split this post over a BUNCH of pages. Click the link above to continue the third page of Page 2.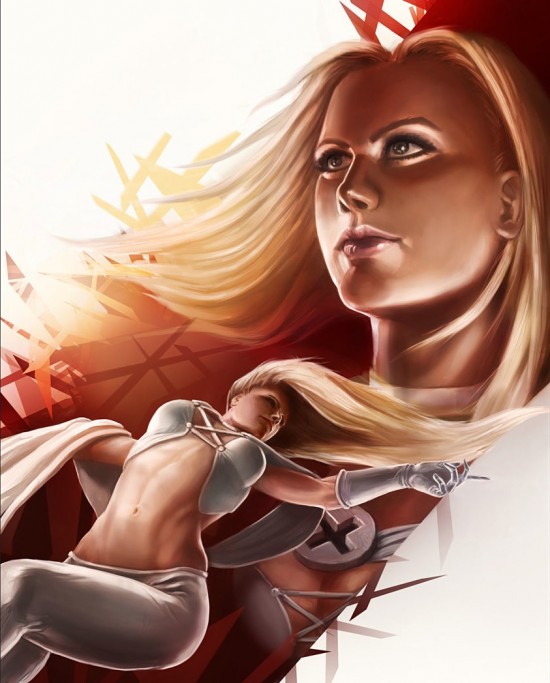 Patrick Hecht created this digital illustration of Emma Frost from X-Men: First Class.
Alyssa Rosenberg at ThinkProgress posted an article about the mutant rights/gay rights metaphor in X-Men: First Class. Commentors attempted to argue against this theory until screenwriter Zack Stentz confirmed the original author's story.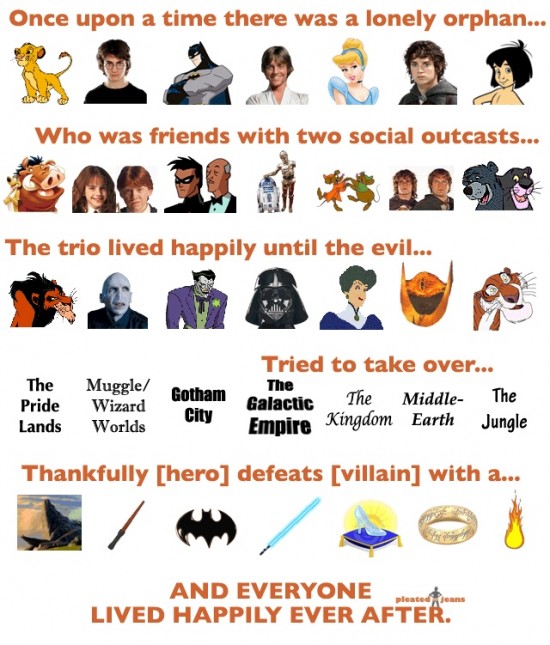 The successful movie formula.
Sue Rostoni will retire from her position as Executive Editor for LucasBooks as of July 2011.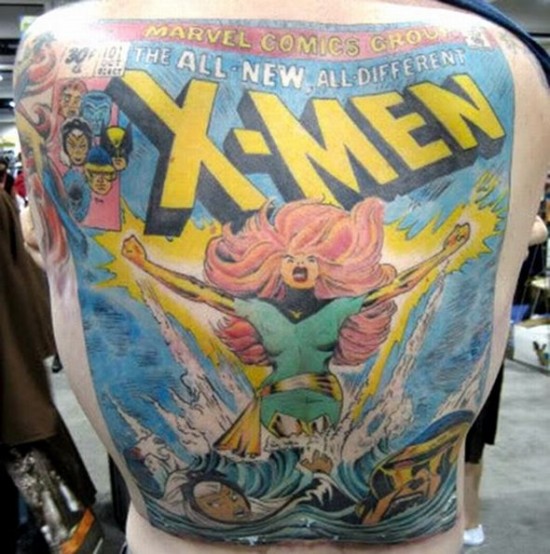 A huge X-Men back tattoo.
J.J. Abrams will moderate a panel featuring the first lady Michelle Obama.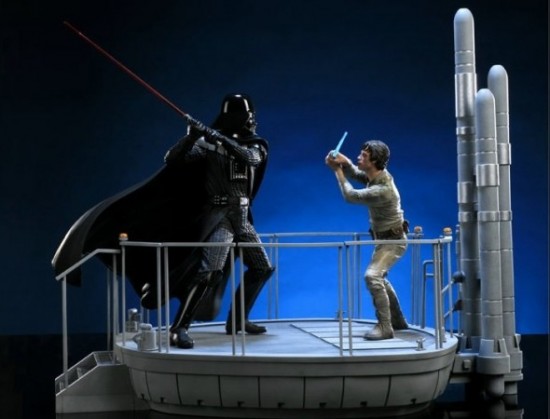 Sideshow Collectibles has released images and pre-order info for its Luke Skywalker vs. Darth Vader on Bespin diorama.The latest episode of South Park lampoons Adam Sandler, Zookeeper and more.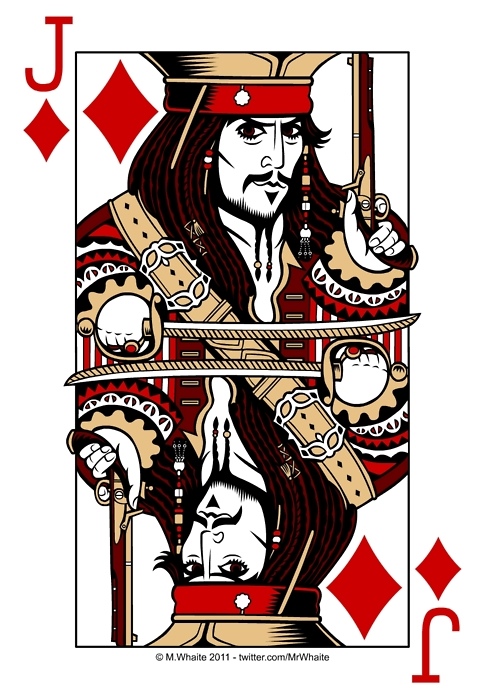 Mr. Whaite has created this illustration of Johnny Depp/Jack Sparrow as the Jack of Diamonds.Topless Robot lists 10 Things We Can't Believe Chuck Norris Attached His Name To.
Due to the amount of graphics and images included in Page 2, we have to split this post over a BUNCH of pages. Click the link above to continue the fourth page of Page 2.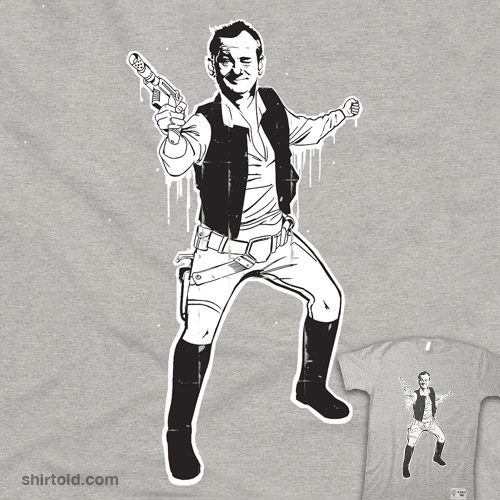 This t-shirt envisions what could have been had Bill Murray landed the role of Han Solo.JJ Abrams talks Star Trek 2 with AICN: "We're waiting to get the script into shape. I've been busy getting SUPER 8 done, and I know that Bob, Damon and Alex have been splitting their time as well. So I'm looking forward to jumping into STAR TREK as soon as the SUPER 8 stuff is done. But what the script is going to be... there are some amazing ideas, and I can't wait to actually be holding the script in my hand."
Jay Maynard, a.k.a. the Tron Guy, appeared on America's Got Talent.
Matt Patches lists 8 Homages That Come Close To Being Rip-Offs.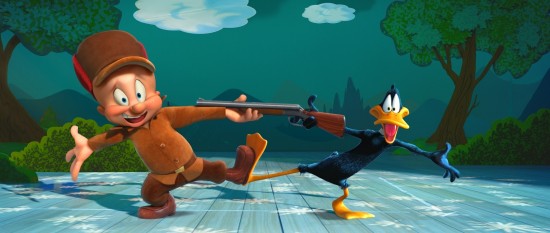 The new Looney Toons short film Daffy's Rhapsody will be attached to the November 18th release of Happy Feet 2.
Blastr lists 10 awesome unmade Star Trek projects we wish we could've seen.
Red Skull speaks in this latest Captain America television spot.
Ryan Reynolds talks about possibly starring in a Deadpool movie: "I love Tim [Miller]. He's someone we all vetted through and through. He's a guy who captures the spirit of it and he's just an incredible visual artist." ... "Deadpool is a character that I love and I got a great opportunity to play him in more of ancillary sense in a film, which was great because it allowed me to jump in and play him, but then not to be committed too much beyond that," he said. "But I do have that film that's in development still, so we'll see what happens with that."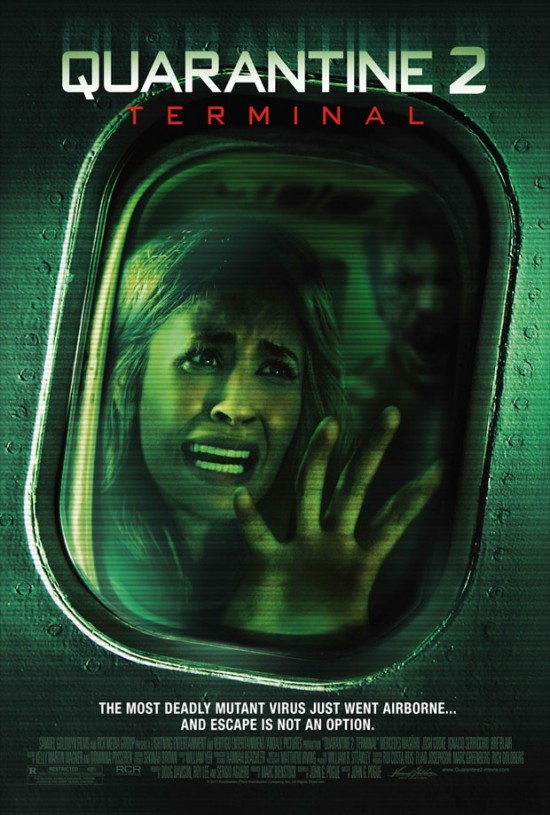 Shock has premiered the poster for Quarantine 2: Terminal.PopCrunch lists the top 10 most terrifying movie clowns of all time.
Due to the amount of graphics and images included in Page 2, we have to split this post over a BUNCH of pages. Click the link above to continue the fifth and final page of Page 2.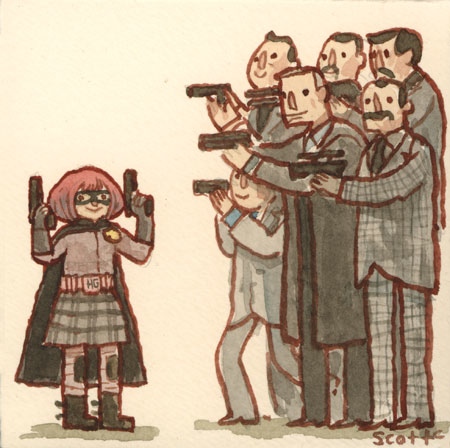 The latest edition to Scott C's Great Showdowns is a Kick-Ass-inspired illustration.
Clutch lists the 6 Most Badass Hero Kids In Movies.
Watch this brief promo for the cancelled live-action Wonder Woman tv series.
The American Cinematheque will host a Mary Poppins screening on Saturday at the Aero Theatre that ties into "The Art of Disney" art exhibit.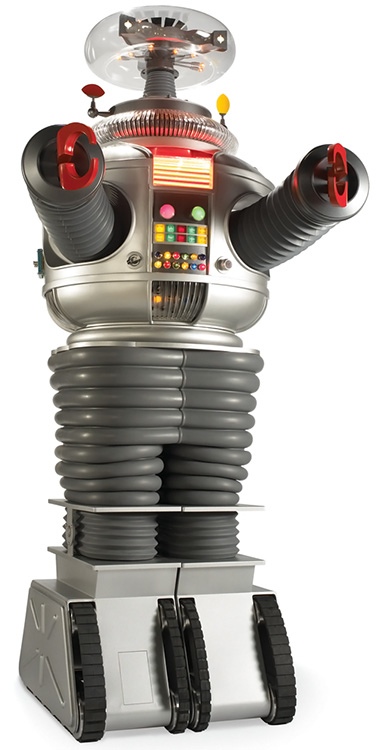 You can buy a 6 1/2 feet tall 275 pound life-sized Lost In Space B-9 Robot for $24,500 at Hammacher Schlemmer.
YouTube India has launched an "movie channel that will be available only in India, offering a premium blockbuster every month for free."