First Look: Emma Watson In 'The Perks Of Being A Wallflower'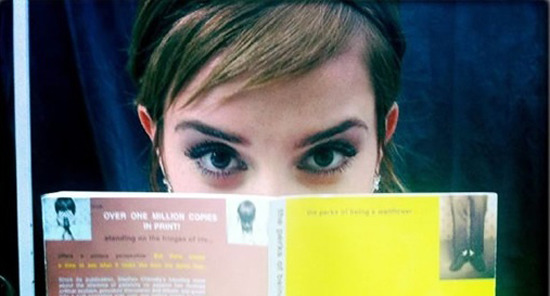 There was a moment where it looked like Emma Watson might not do much acting at all after the Harry Potter series ended, but she quickly shot a small part in My Week With Marilyn (now in post-production) and then took a role in the film adaptation of The Perks of Being a Wallflower, opposite Logan Lerman. That film is shooting now, and the young Mr. Lerman has sent out a few sneaky first looks at the film via Twitter. That's a cropped look at one of them, above, and you can see a more full image after the break, along with a couple other images of the cast.
Stephen Chbosky wrote the original book and is directing the film. The Perks Of Being A Wallflower features Logan Lerman as a shy kid who describes his 1991 adolescent adventures — featuring some early explorations with sex and drugs and dealing with suicide and mental illness — in a series of letters to an anonymous penpal.
Mae Whitman, Nina Dobrev, Paul Rudd and Johnny Simmons are the supporting cast, and given all the people who've lined up for the film — Emma Watson wanted to do it, and the production waited for her to finish Harry Potter — we're optimistic about the result. [ONTD]