Magnet To Distribute 'Tucker & Dale Versus Evil'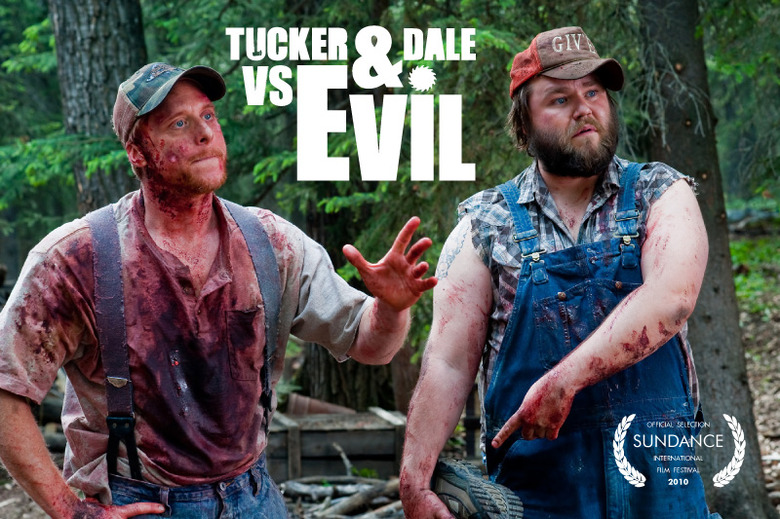 Tucker & Dale Vs Evil premiered at Sundance 2010, and despite earning a lot of fans with the performances of Alan Tudyk and Tyler Labine and the comedy and horror mix that writer/director Eli Craig offered up, the film has been in distribution limbo ever since.
That changes now, as Magnet has announced that it will distribute the film at the end of this summer, with an August 26 VOD bow and a September 30 theatrical opening. Full plot info (via the press release) is after the break along with an early trailer. We'll give you whatever trailer Magnet concocts as soon as it is available.
Here's the trailer, but be warned that it is more of a sales trailer than anything else. As such, it gives a lot away. Some viewers will likely consider it very spoilerish.
Magnet Releasing Acquires US Rights to Horror Comedy TUCKER & DALE VS. EVILNew York, NY – June 8, 2011 – The Wagner/Cuban Company's Magnet Releasing, genre arm of Magnolia Pictures, announced today they have acquired US rights to TUCKER & DALE VS EVIL, perhaps the most commercial and beloved undistributed horror film in the marketplace today. Directed by Eli Craig and starring Alan Tudyk (Serenity), Tyler Labine (Reaper) and Katrina Bowden (30 Rock), TUCKER & DALE VS EVIL is a hilariously gory, good-spirited horror comedy, doing for killer rednecks what Shaun of the Dead did for zombies.Tucker and Dale are two best friends on vacation at their dilapidated Appalachian mountain cabin, who are mistaken for murderous backwoods hillbillies by a group of obnoxious, preppy college kids. When one of the students gets separated from her friends, the boys try to lend a hand, but as the misunderstanding grows, so does the body count. TUCKER & DALE VS EVIL has been a hit on the festival circuit, debuting at Sundance, and winning the Midnight Audience Award at SXSW, the Jury Prize for First Feature at Fantasia, the Best Director award at Fantaspoa, and the Best Motion Picture Award at Sitges.Magnet plans to release TUCKER & DALE VS EVIL in its Ultra VOD program, debuting the films on all VOD platforms nationwide on August 26th, prior to a theatrical release on September 30th.
"It's hard to imagine a horror/comedy more funny, commercial and lovable than TUCKER & DALE VS EVIL," said Magnet SVP Tom Quinn. "It's growing reputation is well deserved, and we're thrilled to be able to bring it to US audiences."
"Tucker & Dale's epic battle against evil has finally come to an end, and though they are exhausted and covered in blood, they have emerged victorious!" said director Eli Craig. "I couldn't be more proud than to be invited into the Magnet family of crazy-awesome films and I look forward to someday breathing life into these wonderful characters again."
Said executive producer Thomas Augsberger (Waiting, Mr. Brooks), who has shepherded this project from early script stage in 2006 through a cumbersome international co-financing structure, a complicated Canadian production, and the treacherous waters of US and international distribution until now: "Coming straight out of USC Film School, Morgan Jurgenson & Eli Craig have written an intelligent and unusually funny screenplay. Seldom has a first time feature director like Eli been able to execute the extremely difficult and unforgiving horror comedy genre so well within a tight budget."
Producer Deepak Nayar (Lost Highway, Bend It Like Beckham) added: "Tom Quinn and his team at Magnet really 'get' this picture and we have great hopes and ambitions to make this their most successful VOD release ever".