Non-Superhero Comic Bits: 'Lions, Tigers And Bears' Gets Writers, 'The Nye Incidents' Back On Track, 'Penny Arcade' Strip Optioned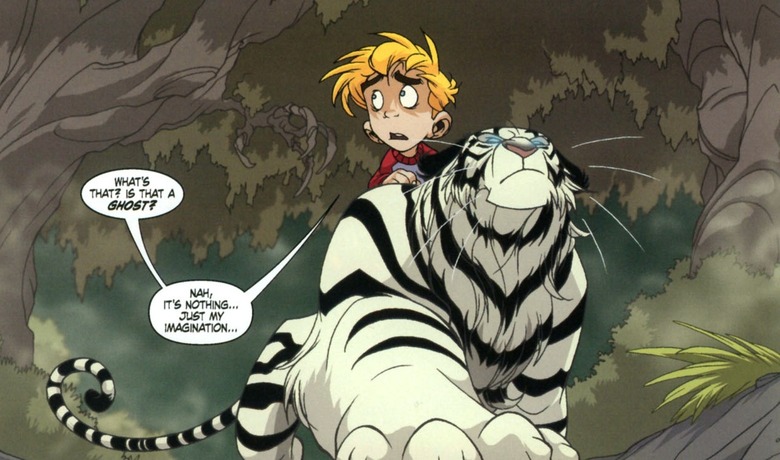 Way back in 2009, we reported on a couple of comic book adaptations in development: Lions, Tigers and Bears, about a boy whose stuffed animals come to life; and The Nye Incidents, based on a Devil's Due comic about an alien abductee serial killer. Neither project got much farther than the early stages, however, and we eventually forgot about them altogether. (Or at least I did. Maybe you didn't. I don't know your life.)
Now, news comes that both projects are back on track again. Get updates on both, plus info on a potential Penny Arcade-inspired film, after the jump.
Based on the Image Comics series by Mike Bullock, Lions, Tigers and Bears tells the tale of a child named Joey Price who learns that his stuffed animals come alive at night in order to protect him from monsters that reside in his closet. Though the premise sounds like a cross between two certain Pixar projects, Paramount is actually aiming for "an effects-heavy live-action tentpole" with franchise potential. [The Hollywood Reporter]
As for The Nye Incidents, not a whole lot seems to have changed. Todd Lincoln was set to direct in 2009, and he's still attached to the project — he just had to put Nye aside for a couple of years in order to make The Apparition. Now that he's got more free time, Nye seems to be moving forward once again. Lincoln will also produce, along with Daniel Alter (Hitman). No writer has been hired at this time, but comic co-creator (and horror author and alleged alien abductee) Whitley Strieber will be involved as a consultant. Streiber will be "providing documents and case files on what he purports are true events."
The comic, written by Strieber, Craig Spector and Guss Floor, centers around a medical examiner named Lynn Devlin who finds herself shaken by the gruesome murder of an alien abductee. Devlin gets involved in the mystery, searching for a possibly-not-human serial killer inside the alien abductee community. The movie will reportedly aim to be "spooky and terrifying" without "veer[ing] into conspiracy/X-Files territory." [The Hollywood Reporter]
Last year, the wildly successful webcomic Penny Arcade put out a strip titled "The New Kid," along with a note from co-creator Mike Krahulik (a.k.a. Gabe) saying, "My fantasy is to see Dreamworks, Disney or Nickelodeon make an animated feature or a Saturday morning cartoon out of this one." As of this week, Krahulik's dream is one step closer to realization: Paramount Pictures has optioned the script for a CGI feature, with Gary Whitta (The Book of Eli) tapped to write.
The strip, which you can read here, revolves around a young boy who's tired of moving around and being the new kid in school... in outer space. Neither of the comic's beloved central characters, Gabe and Tycho, appear in the strip. However, I wouldn't be surprised to see a cameo if/when the film makes it to theaters. [Pajiba]