LOL: Darth Vader Goes To Disneyland Commercial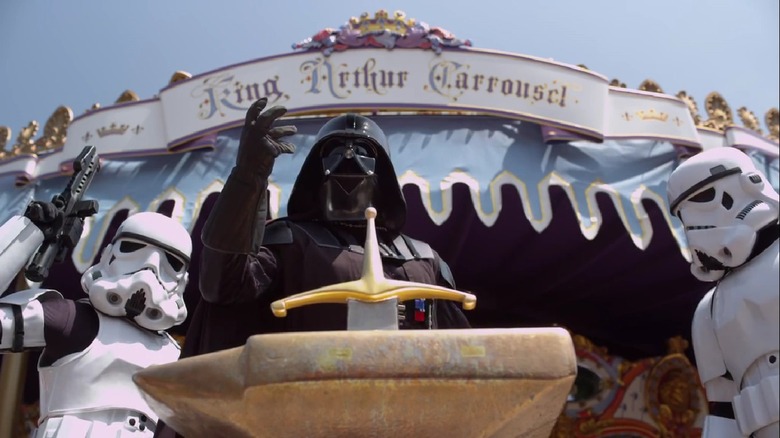 As part of the promotions for the recently revamped Star Tours, Disney has unveiled an amusing new spot featuring the great and fearsome Darth Vader and a couple of his Stormtroopers taking a tour of Disneyland. In it, the Dark Lord arrives at the park with the intention of checking out the new Star Tours. When he sees that it's not open yet, he takes his Stormtroopers around the rest of the park. It's kind of an obvious joke — scary Darth Vader acting goofy is a concept that's been done in countless parody videos — but it's still pretty charming. Watch the commercial after the jump.
[via Disney and More]
I'm not totally sure why Darth Vader feels so compelled to check out Star Tours in the first place. Didn't he already live through a lot of that stuff once? Nevertheless, the ad manages to get some good laughs out of the concept. My favorite gag is a toss-up between the sad Stormtrooper who realizes his helmet isn't properly configured for drinking through a straw, and Vader whipping out his lightsaber when he gets spooked at the Haunted Mansion. It's okay, Vader — those ghosts have terrified the best of us. When we were five.
Star Tours, as you'll recall, is a simulated ride that takes guests on a tour through the Star Wars universe. The attraction first opened at Disneyland way back in 1987, but was shut down last year for a major rehaul and has only just reopened at Disneyland and Walt Disney World in Florida. The new Star Tours, now called Star Tours: The Adventure Continues, features 3D effects, variable storylines, classic locations, some new characters, C-3PO in the pilot's seat, and, I presume, insanely long lines. I suggest flipping through our earlier coverage of the ride in order to help muster up the energy to brave those crowds.