Jon Stewart Announces Intent To Produce A Film About Jailed Iranian Journalist Maziar Bahari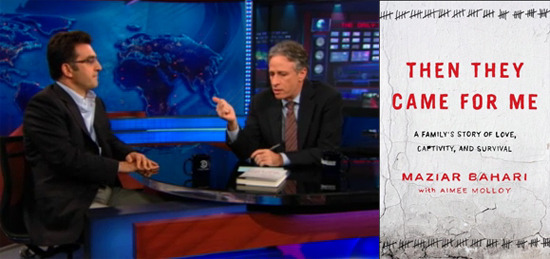 Over a year ago, Pajiba reported that Jon Stewart had bought the life rights of jailed Iranian journalist and filmmaker Maziar Bahari. The idea was evidently to produce a film based on the man's story, as chronicled in his book Then They Came For Me, which details his 118 day imprisonment in Iran, 107 days of which were spent in solitary confinement.
Last night on The Daily Show Jon Stewart hosted Mr. Bahari for an extended interview, and though he revealed no real details, he did confirm that the two are working on a film based on the book.
At the end of the televised interview segment (embedded below) Jon Stewart said,
I do want to say, in the spirit of full disclosure, this is how impressed I am with this man's story, and his courage, and this book: you and I are working together on a film about this. I have suggested, obviously, Matt Damon as you. It's up to you, the casting will be up to you!
The casting bit is obviously a joke. (Mr. Bahari deadpanned in response, "I was thinking about Will Smith.") But this is the first real word that the original scoop was on target. And while we've still got no info about who is writing or directing, the story would make for a hell of a movie. Think something that is almost political satire on a grand scale, except for the fact that it is all true.
The circumstances of Maziar Bahari's arrest and imprisonment are crazy, if apparently typical for Iran. He was arrested during the 2009 Iranian election protests, and while jailed he was tortured and interrogated. One point of interrogation concerned western journalist 'spies,' prompted in part by Bahari's conversation with an in-costume Jason Jones for The Daily Show. As another interview segment that was exclusively broadcast on the web reveals, Maziar Bahari's Facebook page was also a source of concern:
"I am a member of two fanclubs on Facebook: Anton Chekov, the Russian playwright, and Pauly Shore. The Pauly Shore one was an inside joke with a friend...I have to admit, I love Encino Man." He went on to say that his interrogators asked if Anton Chekov was a Jew, and then looked into some of his other Facebook associations, eventually discounting any of them as important when they discovered that Chekov was not Jewish.
But there is more to the story, as other members of Bahari's family have been imprisoned. And Rosewater, his torturer, had also seen his own father imprisoned, and the book draws parallels between Bahari and the man who interrogated him.
I can't wait to see what sort of film comes from this. It is a big, important and very strange story. Here's the description of Then They Came For Me, via Amazon:
When Maziar Bahari left London in June 2009 to cover Iran's presidential election, he assured his pregnant fiancée, Paola, that he'd be back in just a few days, a week at most. Little did he know, as he kissed her good-bye, that he would spend the next three months in Iran's most notorious prison, enduring brutal interrogation sessions at the hands of a man he knew only by his smell: Rosewater.
For the Bahari family, wars, coups, and revolutions are not distant concepts but intimate realities they have suffered for generations: Maziar's father was imprisoned by the shah in the 1950s, and his sister by Ayatollah Khomeini in the 1980s. Alone in his cell at Evin Prison, fearing the worst, Maziar draws strength from his memories of the courage of his father and sister in the face of torture, and hears their voices speaking to him across the years. He dreams of being with Paola in London, and imagines all that she and his rambunctious, resilient eighty-four-year-old mother must be doing to campaign for his release. During the worst of his encounters with Rosewater, he silently repeats the names of his loved ones, calling on their strength and love to protect him and praying he will be released in time for the birth of his first child.
A riveting, heart-wrenching memoir, Then They Came for Me offers insight into the past fifty years of regime change in Iran, as well as the future of a country where the democratic impulses of the youth continually clash with a government that becomes more totalitarian with each passing day