Legendary Effects Guru John Dykstra To Direct 'Super Zero'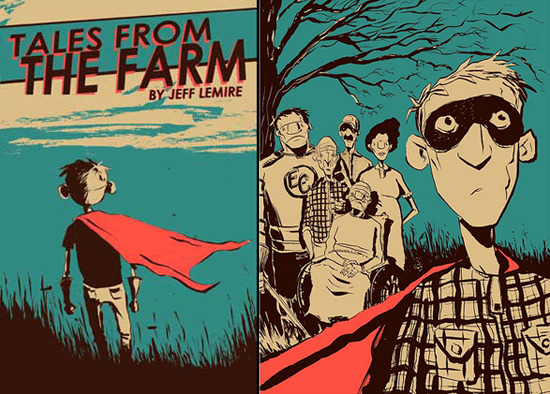 For any film fan even vaguely interested in the technology and craft of filmmaking, the name John Dykstra should need no introduction. He got started with Silent Running, had a major credit on Star Wars, and was a key participant in the development the Dykstraflex motion-controlled camera system, which made possible many of the complex Star Wars special effects.
John Dykstra doesn't actually have a great many film credits — far fewer than you'd expect from someone who began working in the early '70s — but now he is set to direct his first film. Super Zero will be based on the graphic novel Tales From the Farm, the first in Jeff Lemire's set of Essex County stories, and the project is expected to make its first big showing next month at Comic Con.
Variety says that John Carr has scripted the film based on Jeff Lemire's graphic novel. Steven Gilder and Alex Chorches are producing. The film is planned as live-action "with extensive vfx sequences."
John Dykstra told Variety,
I've been so involved in films that are primarily based on the action sequences and over-the-top visuals that this to me was incredibly attractive just based on the depth of the characters and the evocative nature of the story.
The graphic novel is summed up like so:
Ten-year-old Lester, orphaned by his mother's cancer, lives with his bachelor uncle Ken on a southwestern Ontario farm. He wears a superhero's mask and cape all day, and he imagines that he has been entrusted with the task of staving off invading space aliens. Ken is making allowances for the boy, but he's clearly uncomfortable with Lester's preference for solitary play and comic books. It's Jimmy, who runs the nearby gas station-convenience store, who reaches out to Lester, participates in his alien-invasion fantasy, and brings him back to the world.
I hadn't known of the graphic novel until now, and I'm driven to check that out as this point. The story sounds like one that will require good dexterity on the part of John Dykstra, but it could also end up as a film that can stand with more ambitious graphic novel adaptations like American Splendor and Road to Perdition. We'll watch the development of this one and see where casting goes.