J.J. Abrams Talks 'Star Trek 2' Release Date And Possible 3D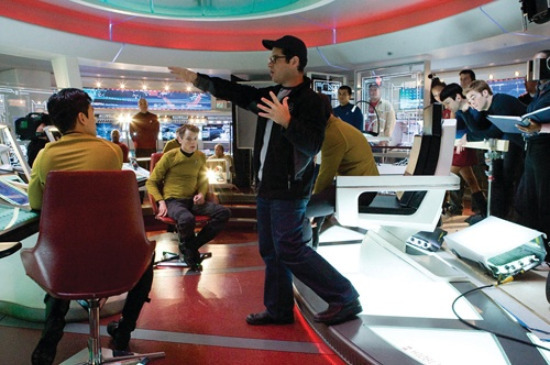 It's Super 8 week and things are getting a little crazy. Reviews are pouring in, there's a mysterious Super 8 Secret set to be announced and the men behind it all are out in full force. Producer Steven Spielberg is doing a rare press tour and writer/director J.J. Abrams is answering same questions over and over again about the film that will presumably be next for him, Star Trek 2. Much as been made about the looming release date of June 29, 2012, which seems unlikely, and whether or not Paramount will ask Abrams to shoot the film – if he directs – in 3D. TrekMovie.com has assembled quotes from a ton of different interviews on both those subjects and we've got them after the jump.
A big thanks to TrekMovie for pulling all of these quotes. Much like their piece (which has more than just what's below) we'll also credit the original source for each tidbit.
Soon after the release of the latest Star Trek, Paramount announced the release date of June 29, 2012. That seemed doable a few years ago but with the film not yet in production and that date now one year away, does Abrams think it's possible? He said the following to Cinemablend:
I care much more that it be good than it be ready. I'm obviously doing everything I can to make sure that schedules don't get screwed up. But I don't think anyone wants a movie on time that's not worth your time. We want to make sure it's done right. The guys I've been working with are obviously brilliant so I'm really excited to get back into it.
And added some more info in his discussion with Collider:
I really don't know [if Star Trek will make its release date], we will see. We are working really hard to try and get that movie made as soon as possible, but we don't want to rush anything. The worst thing we could possibly do would be to put something into production to make a release date instead of a great movie.
So what's the latest on the film? We heard about the long outline but what does Abrams have to say? He said this to Dose:
The writers are hard at work on it, and I am excited about getting back to it. We are taking our time, though, because I really do want make sure we do something that is worthy of the first one.
What about the rumor that Paramount has already asked him about shooting the film in 3D? He answered that question over on Cinemablend:
I'm not yet considering [3D], but you know, I haven't gotten any phone call from people in suits. I know what's good for me.
Before the month is out, we'll probably have a lot of information on Star Trek 2 locked down. Chances are that, much like the first film which was scheduled to come out at Christmas but was then bumped to the following summer, it'll move back a few months.