'Fright Night' Trailer #2 Introduces David Tennant As Peter Vincent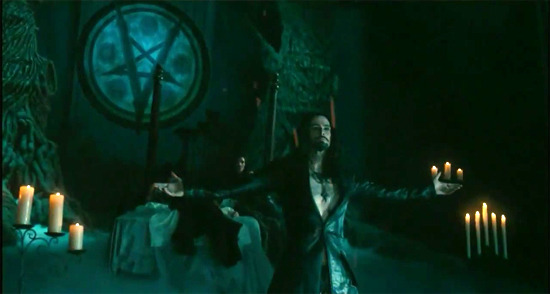 The first trailer for Craig Gillespie's remake of Fright Night did a pretty good job of getting across the basics: Charley Brewster (Anton Yelchin), his mom (Toni Collette) and his new girlfriend (Imogen Poots) have to deal with a little problem when a vampire (Colin Farrell) moves in next door.
But there was a lot the trailer didn't touch on, with one character in particular being almost totally MIA. That was Peter Vincent, which Roddy McDowell played perfectly as an aging horror TV host in the original, and here has been reimagined as a Vegas stage magician played by David Tennant. A new trailer arrived last night via the MTV Movie Awards, and it gives a good look at the new Peter Vincent. It gives away one tiny little character reveal, so if you don't want to know any more than you already do about the film, be warned.
There's a lot of other stuff in here, too: the fact that Charley has started to turn into a popular kid at school; quite a few hints at the scope of the film's action; a great look at the more monstrous form of Colin Farrell's vampire; and an explosive workaround to the old idea that vampires must be invited into a home before they can feed on the occupants. I liked the script and the first trailer, and this new dose of footage gives me more optimism that the new Fright Night might be both sufficiently different from the original, and entertaining in its own right.
And while the fact of the film being in 3D is a bit worrisome, because so much of the action takes place in the dark or at night, we might take heart in the fact that the film scored an R rating – no PG-13 horror this time out.
Fright Night opens in 3D on August 19.
[via STYD]