New Posters: Uncensored 'The Girl With The Dragon Tattoo,' 'Conan' Character Images, And More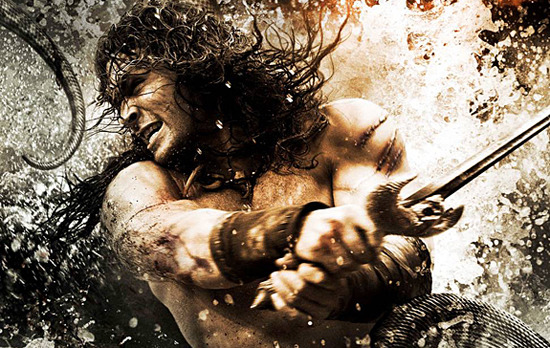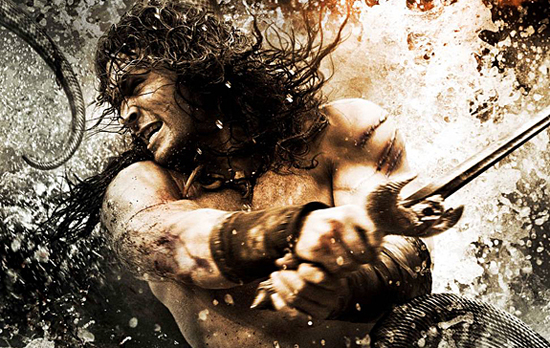 A whole boatload of posters has arrived on internet shores in the past few days, so lets start with today's big one: the uncensored, definitely not safe for work version of the one-sheet for David Fincher's The Girl With the Dragon Tattoo. This one is pretty much internet link-bait and not much more, because it will likely never go up in any US movie theater. And, truth be told, while I admire the boldness of the poster, I like the slightly censored versions much more. Decide for yourself after the break, where we'll also present Conan the Barbarian character posters and one-sheets for Don't Be Afraid of the Dark and the reissue of Rainer Werner Fassbinder's World on a Wire.
Update: Just as this went live, a new one-sheet for The Three Musketeers arrived via Yahoo. That's been added to the gallery below.
The five new character posters from Marcus Nispel's new Conan the Barbarian show Conan (Jason Momoa), and Conan's father Corin (Ron Perlman); Marique (Rose McGowan); Tamara (Rachel Nichols), and the film's big bad guy Khalar Zym (Stephen Lang). Conan the Barbarian opens on August 19 in 3D. The posters come fro MTV, JoBlo, Pop Wrap, FirstShowing.net, and ComingSoon. Here's the synopsis:
A quest that begins as a personal vendetta for the fierce Cimmerian warrior soon turns into an epic battle against hulking rivals, horrific monsters, and impossible odds, as Conan realizes he is the only hope of saving the great nations of Hyboria from an encroaching reign of supernatural evil.
We've presented an alternate version of this Don't Be Afraid of the Dark poster before, when it was an international sheet. Now there's a US version, and it is just as nice. I'd put this on the wall, especially if the movie turns out to be as good as some buzz and the first full trailer have suggested. The movie opens on August 12 in the UK and August 26 in the US. Here's the synopsis:
Sally Hurst (Bailee Madison), a lonely, withdrawn child, has just arrived in Rhode Island to live with her father Alex (Guy Pearce) and his new girlfriend Kim (Katie Holmes) at the 19th-century mansion they are restoring. While exploring the sprawling estate, the young girl discovers a hidden basement, undisturbed since the strange disappearance of the mansion's builder a century ago. When Sally unwittingly lets loose a race of ancient, dark-dwelling creatures who conspire to drag her down into the mysterious house's bottomless depths, she must convince Alex and Kim that it's not a fantasy—before the evil lurking in the dark consumes them all.
Finally, there's the re-release of Rainer Werner Fassbinder's World on a Wire, a beautiful poster for which was done by Sam Smith. This one has been floating around for a week or more, and I regret that it took me this long to present it.
The film was made in '73 as a two-part German television production; it is a sci-fi film about a simulated world and the AI that grows within it. Or, as Mubi said in a post about this poster, "a three-and-a-half-hour, two-part, sci-fi head-trip of a movie about government conspiracies and parallel realities set in a world of gleaming '70s corporate minimalism."
The film basically went missing for decades, fully out of circulation, with the most obvious link to it being the middling remake The Thirteenth Floor. Now it is restored and making the rounds this year. Here are some play dates, and the trailer:
June 17 & 19 – Cinematheque Ontario, Toronto
June 24-26 – Pacific Cinematheque, Vancouver
July 22 – August 4th – IFC Center, New York
July 29 – August 4 – Roxie Theater, San Francisco
August 19 & 20 – LACMA, Los Angeles
September 10 & 11 – Harvard Film Archive, Cambridge
September 16 – 22 – Northwest Film Forum, Seattle
October 7 & 9 – The Museum of Fine Arts, Houston