Casting Bits: Alison Brie And Lizzy Caplan In 'Save The Date;' Jocelin Donahue And Gillian Jacobs In 'Live At The Foxes Den;' More For 'American Reunion'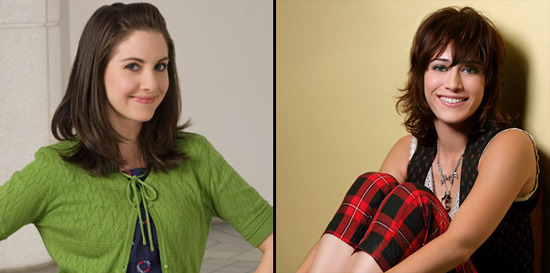 First thought upon hearing the plot for the just-announced comedy Save the Date: "another goddamn wedding movie?" First thought after seeing the cast: "I can't believe I'm going to be excited to see another goddamn wedding movie!" The script focuses on two sisters and their approaches to life and marriage: "one who's happy with the status quo and doesn't see any reason to marry her musician boyfriend while the other's obsessed with planning her upcoming wedding." (Melancholia much?)
But the cast is already impressive: Alison Brie (Community, Mad Men) and Lizzy Caplan (Mean Girls, Party Down) play the sisters and Marin Starr (Adventureland, Party Down), Geoffrey Arend (Super Troopers) and Mark Weber (Scott Pilgrim) are the supporting cast we've got so far. And I don't need any more than that — ticket sold. The script is by graphic novelist Jeffrey Brown, and Mike Mohan will direct the film in July in LA. [Variety]
After the break, the odd legal drama Live at the Foxes Den gets more names, as does, inevitably, American Reunion.
We talked a little bit the other day about Live at the Foxes Den, which is about a miserable corporate lawyer who takes leave from his job when he stumbles into the nightlife of an old-school cocktail lounge called The Foxes Den, where he begins to sing. Ultimately, he is inspired to take up the causes of the regulars and staff by starting his own law firm to fight for the little guy." Jackson Rathbone is the attorney and the supporting cast includes Jack Holmes, Janet Montgomery, Bob Gunton, Pooch Hall and Elliott Gould.
Now Jocelin Donahue, who played the lead in The House of the Devil, will appear, as will Community's Gillian Jacobs. Michael Kristoff writes and directs, and the film is shooting now in LA. [Variety]
Finally, we've got three more names for American Reunion: Chuck Hittinger (Pretty Little Liars), who'll be "Marco, a jock and a bully who takes his girlfriend for granted; Jay Harrington (Better Off Ted) will be the doctor dating Mena Suvari; and Ali Cobrin will be "the cutest senior in high school looking for the perfect guy to give her virginity to."
The film features the returning American Pie cast as their character travel home for their high-school reunion. The film is shooting now in Atlanta, which means the following list of people will all probably be found gawking at the weird nightlife at the Clermont Lounge sometime in the next month: Jason Biggs, Seann William Scott, Alyson Hannigan, Thomas Ian Nicholas, Chris Klein, Eugene Levy, Tara Reid, Eddie Kaye Thomas, Jennifer Coolidge, Katrina Bowden and Dania Ramirez. Jon Hurwitz and Hayden Schlossberg are writing and directing. [Variety, Deadline]