'Ninja Kids!!!' Trailer - '13 Assassins' Director Takashi Miike Gets Goofy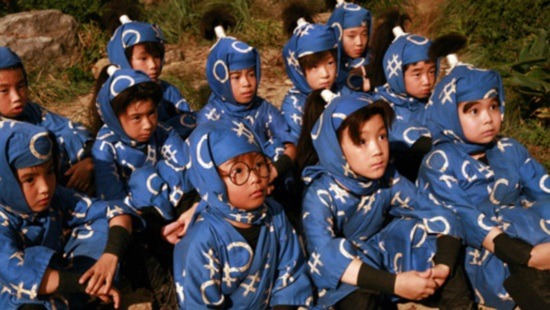 After some heavier recent works — including 13 Assassins and Hara-Kiri: Death of a Samurai, both of which are currently making their rounds in the festival circuit — director Takashi Miike is displaying a much lighter side side in his latest film, Ninja Kids!!! The bright, bubbly kids' flick is based on the long-running anime series Nintama Rantaro, which in turn was adapted from an even longer-running manga titled Rakudai Ninja Rantaro. Check out the very silly trailer after the jump.
[via Movieline]
The basic premise isn't terribly difficult to grasp, even without subtitles — the story centers around young ninjas-in-training at a ninja academy — but for more clarification, check out this English-subtitled trailer as well.
[via Twitch]
The influences of anime and manga style are obvious even in these short trailers. Ninja Kids!!! really does look like an anime come to life, from the stylized action to the colorful costume design. I especially love the look of main character Rantaro (Seishiro Kato), whose hilariously oversized glasses put that Jerry Maguire kid's to shame.
In addition to a lot of cute, energetic kids, Ninja Kids!!! also stars Shido Nakamura (Red Cliff, Letters from Iwo Jima), Rei Dan (Pandemic, Love and Honor) and Hiroki Matsukata (13 Assassins). The film will open in Japan this July.
Though Ninja Kids!!! has no real U.S. or European release date as of yet, New Yorkers (or those willing to travel to New York) can catch the movie's world premiere at the New York Asian Film Festival this summer. Here's the very enthusiastic, appropriately exclamation point-heavy NYAFF synopsis:
Takashi Miike has been impressing critics with 13 ASSASSINS and his 3D remake of HARA KIRI that just played Cannes. Whatever. We've got the World Premiere of his insane new kid's flick about feuding ninja schools. People wonder where all the craziness went from Miike's two new films? He put it all in here. Your jaw will drop like an elevator with a snapped cable. We love you, Takashi Miike!!!