Alyson Hannigan Offers Still More Plot Details For 'American Reunion'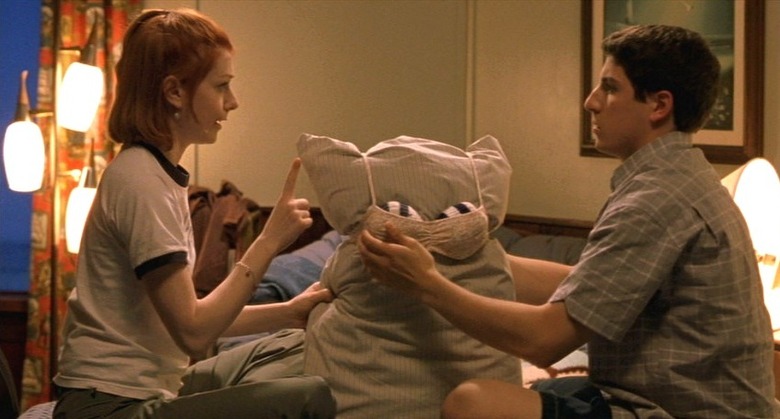 Between the detailed plot summary and the endless casting announcements, I thought we knew pretty much everything there was to know about American Reunion by this point. Apparently, I was wrong.
We've known for some time that one of the subplots in the film would revolve around the relationship between Jim (Jason Biggs) and Michelle (Alyson Hannigan), who've been dating since the original American Pie and got married in American Wedding. The earlier synopsis revealed that Reunion would see the couple still together but facing some issues, such as a (as-yet-uncast) sexy younger neighbor with the hots for Jim and the revival of Jim's high school sex tape with Nadia (Shannon Elizabeth).
But wait, there's more! In a recent interview, Hannigan offered some new details about the couple's storyline — and hinted at the possible reappearance of a certain musical instrument. Read more after the jump.
Well, we're still married and we have a child. So we're navigating the waters of parenthood and how that changes the dynamics of a relationship. But also they're going back to their high school reunion and so there's some nostalgia there of, 'Aw, remember what we were like when we first met?' That kind of stuff. It's really nice. I really love that relationship and they've stayed true to it.
"Remember what we were like when we first met?" Who could forget? Certainly not EW, who took it upon themselves to ask about the possible resurfacing of Michelle's notorious flute skills:
Does your character's flute-playing prowess come into the plot this time around?
There will be some... Uh... Yes, you know, it's a reunion. [Laughs] What's great about what Jon [Hurwitz] and Hayden [Schlossberg, co-writers and co-directors] have done is they've made a really good movie that people who aren't familiar with the franchise will love, but they've also given the people that love the franchise a lot of inside jokes and stuff that you'll really appreciate if you're a fan of the American Pies.
So flautism — if that's a word — does come up?
[Laughs] You will see the old band room at least.
American Reunion opens April 6, 2012. Check out our earlier coverage of the film to see what some of the other characters might be facing in Reunion.