Page 2: Batman, Leonard Nimoy, Super 8, Jack The Giant Killer, Captain America, Jimmy Fallon, Toy Story, Goonies, Wizard Of Oz, Tree Of Life, Green Lantern, Zoolander, Karate Kid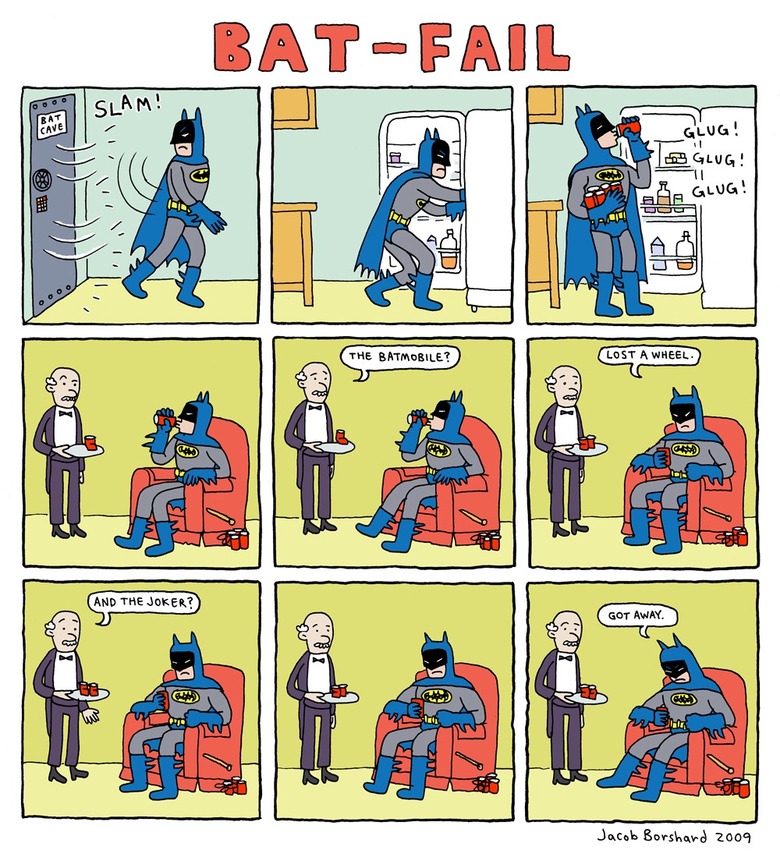 We may receive a commission on purchases made from links.
What is Page 2? Page 2 is a compilation of stories and news tidbits, which for whatever reason, didn't make the front page of /Film. After the jump we've included 46 different items, fun images, videos, casting tidbits, articles of interest and more. It's like a mystery grab bag of movie web related goodness. If you have any interesting items that we might've missed that you think should go in /Film's Page 2 – email us!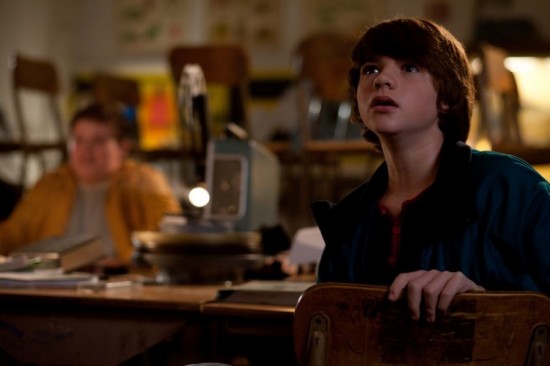 Paramount Pictures has released a bunch of new images from Super 8, featuring mostly kids looking at something out of frame.
ODH lists the top 10 Best Post-apocalyptic Movies.
Robbe Rees and Lee Keeler have created a retro movie trailer for The Tree of Life.
A Moviehole reader got an update on Last Starfighter 2 from Nick Castle: "I asked Nick if the rumers of a sequel were true and he said they were. They almost got the film made a couple of years ago. In the proposed sequel, Lance and Catherine's characters Alex and Maggie are parents to a son who will be a Starfighter. My conversation with Nick castle was brief but he encouraged me to help spread the word in the hopes that the film may still get made."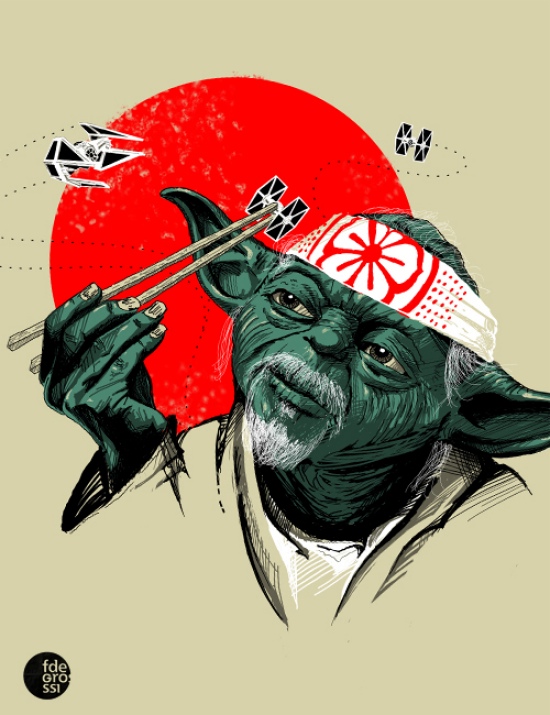 Fernando Degrossi created this The Karate Kid/Star Wars mash-up illustration.AMC lists the top 10 comic book adaptations of all time.
Watch Leonard Nimoy in the music video for Bruno Mars' "The Lazy Song."
Richard Donner gives an update on the Goonies musical and Dave on Broadway: "Dave is really moving fast. We were in there, Lauren and I, and she heard some of the music and the book and it's sensational. And Goonies is moving at the beginning stages, like a year before Dave. We're getting good outlines and good story from Tim...oh shit, this is terrible. He's a wonderful writer. I'd say hopefully we'll have a good script maybe by the middle of this year, around September or October we'll have a script that we can go to from there. It's a long process, Broadway, it's amazing. It's frightening in a strange way. But we only get great reactions from everybody, everybody wants to see it. It seems like a great idea, and we'll persevere. A musical of Goonies on Broadway? But it's gotta be irreverent, and it's gotta be Goonies. A lot of people are pushing, 'Oh rewrite it, do it for adults,' I said, 'No adults go to see Goonies, but it's gotta be...' Anyway, it's a bitch (laughs)."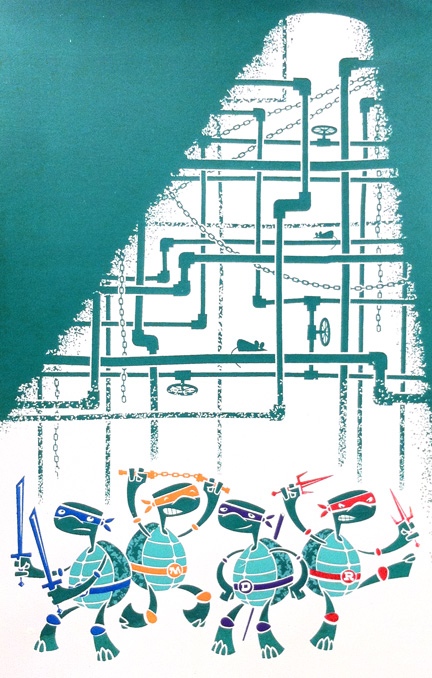 Doug LaRocca created this piece for the Teenage Mutant Ninja Turtles art show.
The Independent claims that Terrence Malick loves Zoolander: "He is also said to be such a fan of Zoolander, the 2001 send-up of the fashion world, that colleagues say he watches it regularly and likes to quote it. Ben Stiller, the star of the film, once dressed up in character and recorded him a special birthday video message."
Due to the amount of graphics and images included in Page 2, we have to split this post over a BUNCH of pages. Click the link above to continue the second page of Page 2.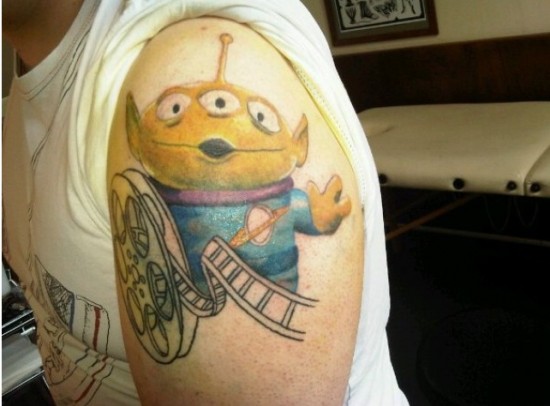 Check out Tom Ellis' Toy Story tattoo.V star Morena Baccarin will join the Showtime dramatic television series Homeland as a regular.
Eclectic Method has remixed Green Lantern's In Blackest Night.
The MPAA has given JJ Abrams' Super 8 a PG-13 rating "for intense sequences of sci-fi action and violence, language and some drug use" and The Thing has been "Rated R For strong creature violence and gore, disturbing images, and language."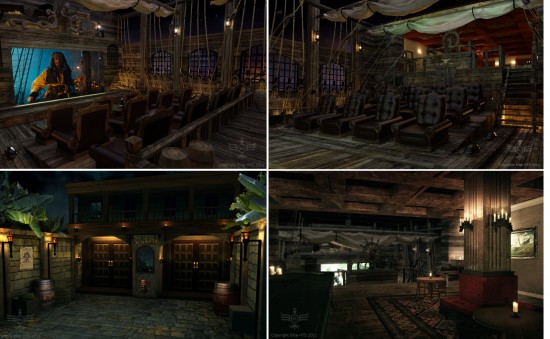 Elite Home Theater Seating have built a $2.5 million Pirates of the Caribbean-themed home theatre in southern Florida.Law & Order veteran Sam Waterston will be a series regular in the Aaron Sorkin's drama pilot for HBO tentatively titled More As This Story Develops.MTV has a clip from The Art of Getting By starring Freddie Highmore and Emma Roberts.Badassdigest takes a look at the upside of DC Comics rebooting their universe again.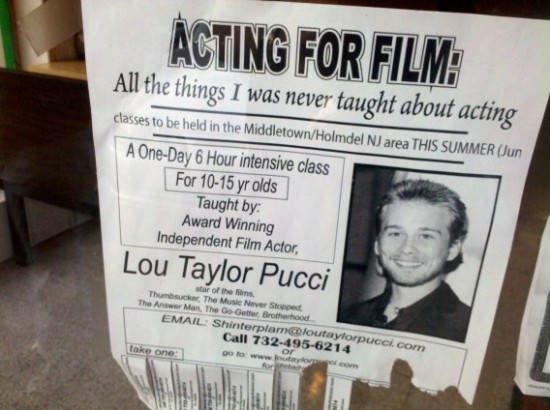 Independent actor Lou Taylor Pucci is apparently now teaching acting in New Jersey.
Wired takes a look at 40 Years of Ice-Cold Psychopaths in movies.
Due to the amount of graphics and images included in Page 2, we have to split this post over a BUNCH of pages. Click the link above to continue the third page of Page 2.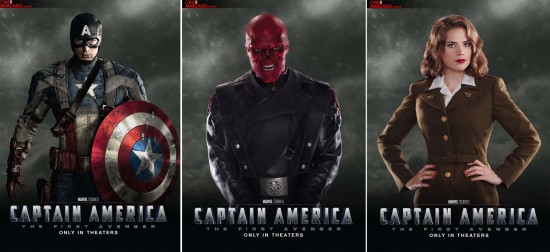 Three strange-looking international character posters have appeared for Captain America.
Paramount Pictures-based Fake Empire has acquired Let It Snow, an anthology of three intersecting short stories by young-adult novelists John Green, Maureen Johnson and Lauren Myracle.
Watch Kirby Krackle's "Ring Capacity" Green Lantern music video featuring animation by Betsy Lee.
Fox, one of the major investors in Hulu, is looking at ways to sell more digital advertising on Hulu.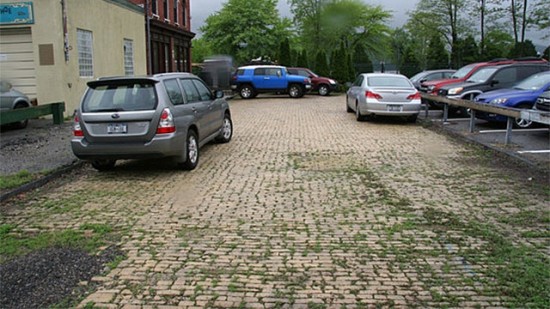 Historian John Curren believes he has found the inspiration for the yellow brick road in L. Frank Baum's The Wonderful Wizard of Oz: Mostly gone, a portion of the old road remains as a parking lot in the small town of Peekskill, NY.
Disney has picked up The Girlfriend Equation, a pitch based on a story that appeared on This American Life.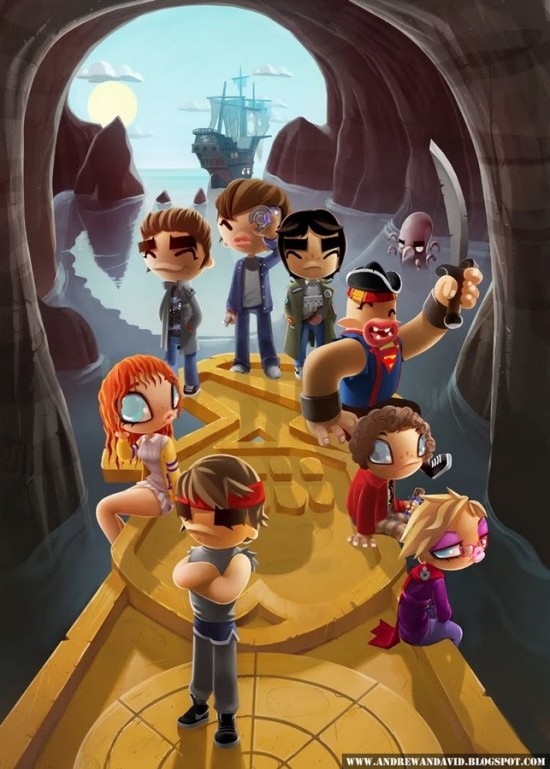 Andrew Wilson created this piece for the Autumn Society's Goonies art show.
SnagFilms will make a collection of 150 award-winning docs available to stream on Roku.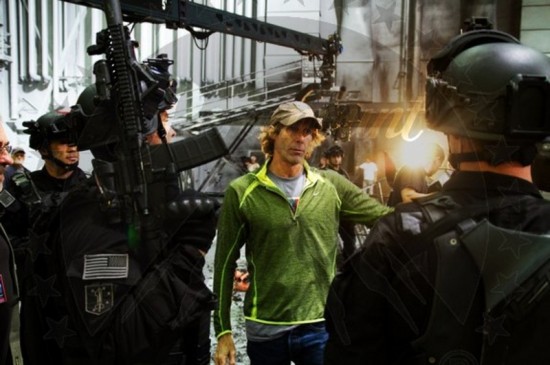 Paramount has released some new images from Transformers: Dark of the Moon.
24 Frames lists five ways Tree of Life can go.
Due to the amount of graphics and images included in Page 2, we have to split this post over a BUNCH of pages. Click the link above to continue the fourth page of Page 2.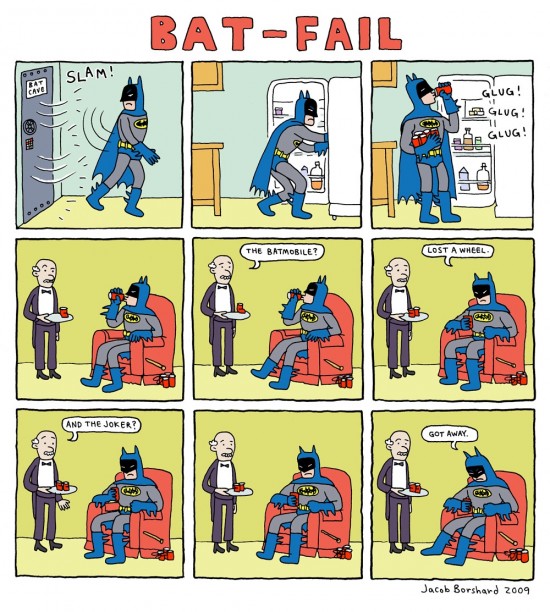 Batman comic strip of the day.Alec Baldwin has joined twitter.
Watch Episode 8 of the Mortal Kombat: Legacy web series, part 2 of Scorpion and Sub Zero.
Scifi lists 27 hot summer TV shows you won't want to miss.
AOL TV has a preview of Jimmy Fallon as the new recorded tour guide on the Universal Studios studio lot tram tour.
Bryan Singer talks to IGN about using performance capture on his upcoming film Jack The Giant Killer:
"It's fascinating. I've just started my rehearsals with the principal cast on the performance capture stage and I wish you were here so I could show you some photos on my iPhone because they are so comical. It takes you back to play-acting as a kid in your living room because you are running around and having to imagine that you are in Gantua and imagine that there are these weapons and all these giant things. But there's nothing when you are there other than Styrofoam and blocks. It forces the actors to regress to when they would play-act as kids or do minimalist theatre. But in that way it's fascinating – I can see why Robert Zemeckis and James Cameron have started to shoot pictures this way."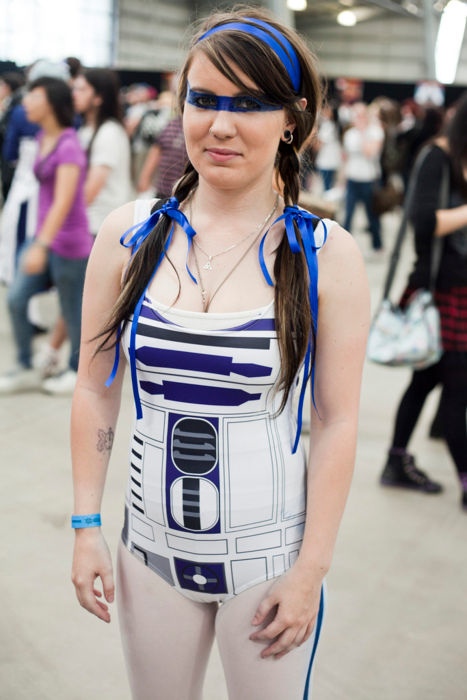 R2-D2 cosplay.
Kung Fu Panda 2's disappointing opening weekend box office performance leads DreamWorks Animation's stock to hit two-year low.
Bank robbers dressed as nuns held up a Chicago-area bank, imitating a sequence from Ben Affleck's crime thriller The Town.
Brian Salisbury takes a look back at the Toy Story video game for the Sega Genesis.
Due to the amount of graphics and images included in Page 2, we have to split this post over a BUNCH of pages. Click the link above to continue the fifth and final page of Page 2.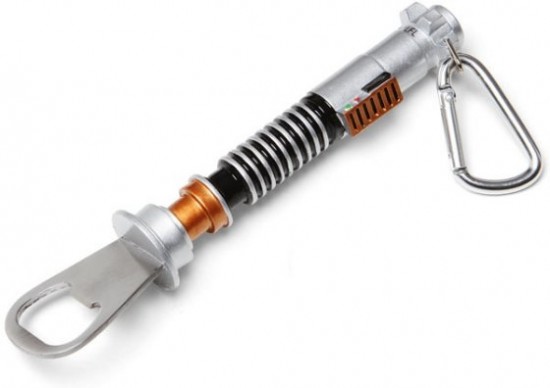 A lightsaber bottle opener — the geekiest bottle opener ever?
OWF lists 10 novels that should be adapted into films.
Watch this French Batman fan film, Pierre Desgranges' Batman Deliverance, which featuring an older drunk Bruce Wayne take on Wolverine.
Company Town reports that "More than a dozen California state parks that have been a rich source of filming for such classic Hollywood movies as "High Noon," George Lucas' "Star Wars" sequel "Return of the Jedi" and Steven Spielberg's "Back to the Future III" are in danger of going dark."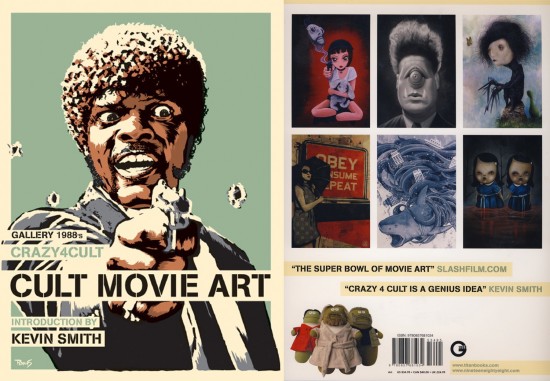 /Film is quoted on the upcoming hardcover book Crazy 4 Cult: Cult Movie Art, available for preorder on amazon for only $23.
Gamma Squad lists the top 25 alternate versions of Batman.