Noah Baumbach And Jesse Eisenberg To Reunite For 'While We're Young'?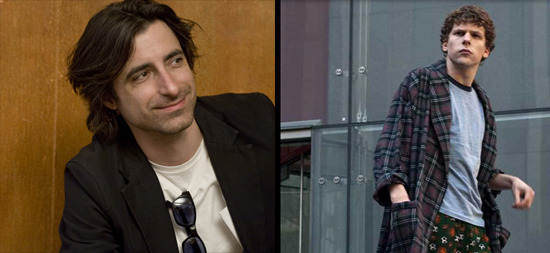 Zombieland and The Social Network minted Jesse Eisenberg as a new star, but Noah Baumbach was an early booster as he cast the young actor in The Squid and the Whale. That, along with Roger Doger, was what really put the young actor on the map, positioning him for his current success. And now there is evidently a possible reunion brewing for the director and actor. Noah Baumbach is preparing While We're Young, and is reportedly talking to Jesse Eisenberg for one role and Naomi Watts for another.
The LA Times reports the chance of a reunion with a good deal of caution: no one that told the paper about the brewing reunion is willing to speak on the record, and nothing is final at this point.
What is the film about? The LAT says, "a 40-ish childless couple that begins feeling alienated from their friends as those friends begin to procreate. They in turn befriend a younger couple that in turn helps convince the older pair to loosen up."
So Jesse Eisenberg would be half of the younger couple, and Naomi Watts would be half of the older. Ben Stiller is set to play her husband/boyfriend. Back when he was lined up, it looked like James Franco would play the guy in the younger couple, Greta Gerwig his partner and Cate Blanchett would have the role that may now go to Naomi Watts. But they all dropped out, leading to the new cast options.
Jesse Eisenberg first has to shoot Woody Allen's new movie, Bop Decameron, so this one would have to shoot in the fall if it wants him.