'Harry Potter And The Deathly Hallows Part 2' Character Posters Revealed For Ron, Draco, Snape, Voldemort And Neville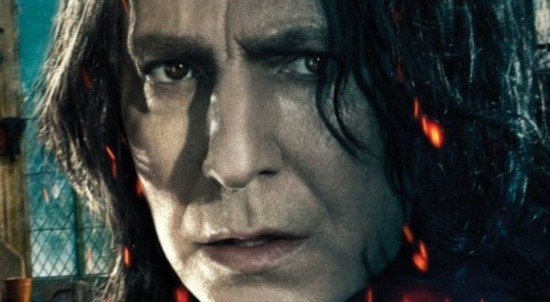 Last week, we showed you two new posters for Harry Potter and the Deathly Hallows Part 2 — one featuring a roughed-up Harry and another showing a concerned-looking Hermione. Since then, Warner Bros. has released five more character posters, for Ron (Rupert Grint), Neville (Matthew Lewis), Voldemort (Ralph Fiennes), Draco (Tom Felton) and Snape (Alan Rickman). Check out the images after the jump.
For some reason, the Gryffindors are all covered in dirt and blood, while the Slytherins look totally pristine. Is Warner Bros. trying to get us to equate cleanliness with evil ambition?
The studio's been releasing the posters on their Facebook page (via FirstShowing) over the past week or so, so I wouldn't be surprised to see a few more in the coming days — major characters who've yet to get posters include Ginny (Bonnie Wright) and Luna (Evanna Lynch).
The eight and final entry in the Harry Potter film series, Harry Potter and the Deathly Hallows Part 2 opens July 15, 2011 and will be available in 2D, 3D, and 3D IMAX — take your pick. The film was directed by David Yates, who's been with the franchise since the fifth installment (Harry Potter and the Order of the Phoenix). In addition to the actors mentioned above, it also stars Helena Bonham Carter, Jim Broadbent, Robbie Coltrane, Warwick Davis, Michael Gambon, Ciarán Hinds, John Hurt, Jason Isaacs, Gary Oldman, Maggie Smith, David Thewlis, Emma Thompson, and Julie Walters.
Synopsis:
"Harry Potter and the Deathly Hallows – Part 2," is the final adventure in the Harry Potter film series. The much-anticipated motion picture event is the second of two full-length parts. In the epic finale, the battle between the good and evil forces of the wizarding world escalates into an all-out war. The stakes have never been higher and no one is safe. But it is Harry Potter who may be called upon to make the ultimate sacrifice as he draws closer to the climactic showdown with Lord Voldemort. It all ends here.
Discuss: At the risk of sounding a little cradle-robby, who'd have thought dorky old Neville would turn into such a looker?