New Images And A Positive Review Of The Canned 'Wonder Woman' Pilot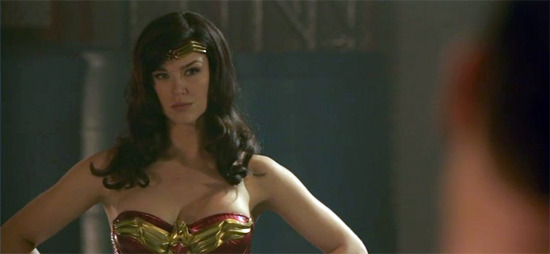 We may never see a broadcast of the canned NBC pilot for David E. Kelley's Wonder Woman relaunch, starring Adrianne Palicki as Wonder Woman. But copies are floating around, and the show is sure to end up as a fully circulated bootleg. Until it hits YouTube, those curious about the show that will never be will have to rely on info drops like this one. A copy of the pilot fell into the hands of one writer, who has penned a mostly positive review, and pulled a few screencaps that show the classic 'short pants' costume and even the show's version of Wonder Woman's jet. Read on for some review details, and for a gallery of images. 
iFanboy has the review and the images. The site says that while Cary Elwes is far too over the top as Henry Demeter and Justin Bruening is "a bit of a mannequin" as Steve Trevor, Adrianne Palicki is quite good:
As Wonder Woman/Diana Themyscira/Diana Prince, Adrianne Palicki was a revelation. I was already a big fan of hers from Friday Night Lights but here she takes center stage and pulls off what is an extremely difficult role. She's tough, she's charming, she's sexy, she's vulnerable, and she's got a little bit of an angry edge to her when she's Wonder Woman that adds just a dash of exciting unpredictability. This could have been a star making turn for Padlicki who certainly deserves one.
There are notes about how some of the lousy characters from the initial pilot script were changed or cut, and a few other more David E. Kelley type moments were also trimmed. And the violence is evidently there:
The Wonder Woman on this show is a badass who is not above choking dudes with her lasso (her favorite move) or throwing a piece of pipe through your throat if you won't stop shooting at her. For a weekly television show, the action scenes were fairly well executed and at times quite thrilling.
There are many more details in the lengthy review, but what you really want are new images. So here's the small gallery, including a shot of what appears to be a not quite invisible jet: