New Robert Redford Biography Claims William Goldman Didn't Write 'All The President's Men'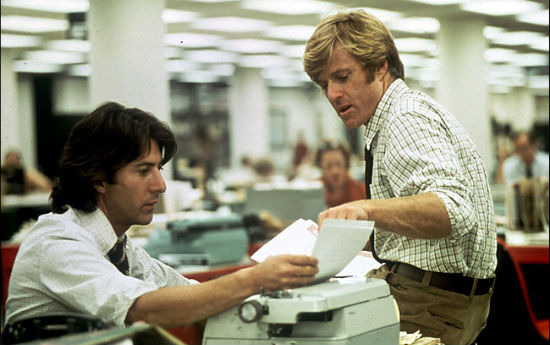 The Seventies provided some of the greatest dramas of all time. Films like The Godfather, Taxi Driver, One Flew Over the Cuckoo's Nest and Network remain as dramatic today as they were then. In that time, though, film historians have uncovered much of the behind the scenes drama that happened on these classic films and, in some cases, it's better than what happened on screen.
The latest case of this is a claim by Robert Redford that legendary, Oscar-winning screenwriter William Goldman didn't actually write All The President's Men, Alan J. Pakula's multiple Oscar-winner starring Redford and Dustin Hoffman as Bob Woodward and Carl Bernstein, two Washington Post reporters who eventually blew the lid off the Watergate scandal.
In Michael Feeney Callan's new biography on Redford called Robert Redford: The Biography, Redford tells a story of how he and Pakula spent a month rewriting Goldman's script before shooting. Is he telling the truth? Another piece of investigative journalism says "No."
The Playlist put all this information together a few weeks ago and we're just getting around to it now, so a big thanks to them.
The story goes like this. Vanity Fair ran an excerpt of Feeney Callan's books (which you can read here) which speaks about how Goldman's first script was hated by all and Redford didn't think it could get made as is. Various people, including Bernstein himself, attempted rewrites and that pissed off Goldman, leading to a fractured friendship with Redford. And then – reportedly – this:
Redford booked rooms at the Madison Hotel, across from the [Washington] Post offices, for one month, and he and Pakula repaired there to re-draft the screenplay. About one-tenth of Goldman's draft remained in the end. "Bill gave the start point and the ending," says Woodward, "and those never changed." Goldman would win an Academy Award for the script, but his participation was by now finished.
That makes it sound like Goldman won an undeserved award which, according to Richard Stayton, is not the case.
Stayton works for Written By magazine, a publication for Writers Guild of America members, and in their April/May 2011 issue he documents an extensive investigation into Redford's claims. Much like Woodward and Bernstein before him, Stayton looked at old drafts of the script, old articles about the movie, interviews and even talked Goldman himself – who preferred not to comment – and came up with what he believes to be a fact:
William Goldman was the sole author of All the President's Men. Period. End of paper trail.
Basically Stayton concludes that while most people hated Goldman's script and really wanted it changed, most of what he did ended up making it into the final film regardless of the horrors he had to endure.
For more on the claims and investigation, check out the Written By article here (it begins on Page 2 in a column called Fade In) and once again thanks to The Playlist, as well as Go Into The Story, for the heads up.