Casting Bits: Shannon Elizabeth Completes 'American Reunion,' John Cho In 'Total Recall'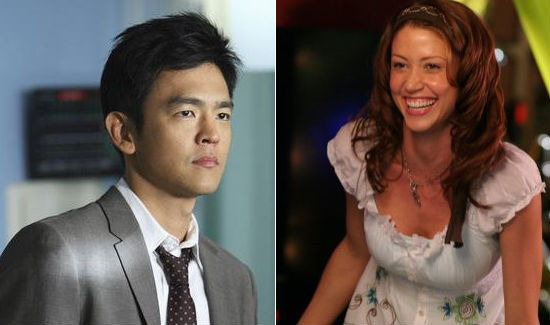 How can you have an American Reunion without the guy who brought the phrase "M.I.L.F" to the masses? Probably because he'll be off planting memories in Colin Farrell. Two big bits of casting were recently revealed as Shannon Elizabeth, who played foreign exchange student Nadia in the first two American Pie movies, has finally signed to appear in the American Pie sequel American Reunion. Another Pie-alum, John Cho, who has had arguably the best career (maybe save for Seann William Scott) of all the people in the series, probably won't be appearing though because he's just signed to play McClane, one of the representatives who temps Douglas Quaid (Colin Farrell) to implant memories in his head in Len Wiseman's Total Recall remake. Read more after the jump.
According to Deadline, Shannon Elizabeth was one of the final holdouts in regards to returning for the fourth theatrical American Pie film. Harold and Kumar writers Jon Hurwitz and Hayden Schlossberg wrote and will direct the sequel beginning next week in Atlanta. She'll join Jason Biggs, Seann William Scott, Alyson Hannigan, Thomas Ian Nicholas, Chris Klein, Eugene Levy, Tara Reid, Eddie Kaye Thomas, Jennifer Coolidge and Mena Suvari in the film, which is about the gang coming back home for their 10-year high school reunion. If you'd like to know more about the film, EW did a great interview with Jason Biggs that doesn't have much new info, but does tease quite a bunch.
Speaking of Entertainment Weekly, they confirmed that John Cho had been cast in Total Recall, the Len Wiseman-directed remake of the Paul Verhoeven film starring Colin Farrell, Bryan Cranston, Kate Beckinsale and Jessica Biel. Cho is "McClane, the smooth-talking rep for the mind-messing company that tempts Colin Farrell's Douglas Quaid to implant fantastic memories into his brain" according to EW.
That film starts shooting next week as well and could be a reason why we haven't heard that Cho would reprise his small role in the American Pie series, affectionately known as "The MILF Guy." But, it's a small role, and he might still turn up at some point.