Page 2: Mad Men, Up, True Blood, Green Lantern, Harry Potter, Michael Sheen, X-Men: First Class, The Hobbit, Charlie Chaplin, Robocop, Inception, Little Mermaid, Tron: Legacy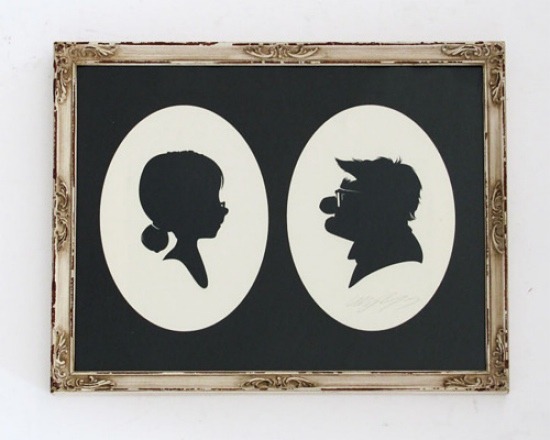 What is Page 2? Page 2 is a compilation of stories and news tidbits, which for whatever reason, didn't make the front page of /Film. After the jump we've included 46 different items, fun images, videos, casting tidbits, articles of interest and more. It's like a mystery grab bag of movie web related goodness. If you have any interesting items that we might've missed that you think should go in /Film's Page 2 – email us!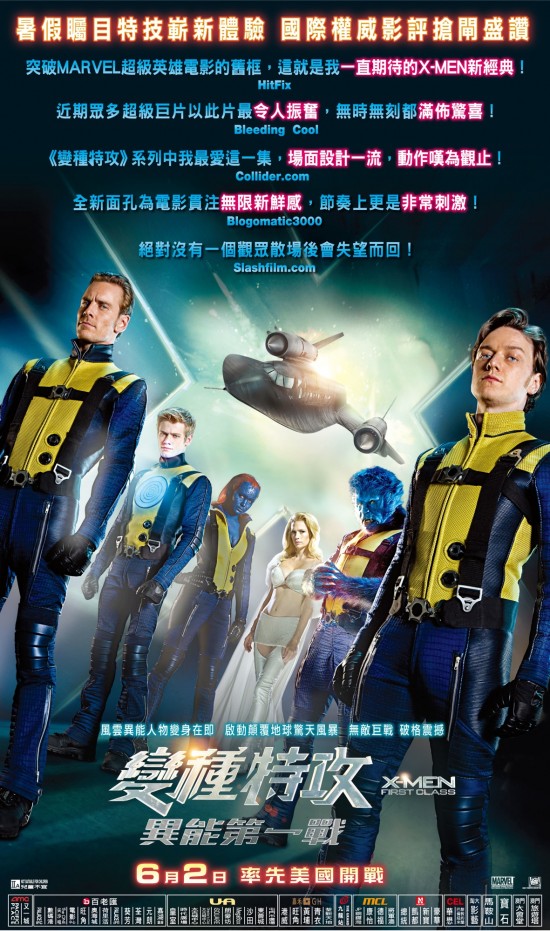 /Film was quoted on the Hong Kong poster for X-Men: First Class. Our friends at Neonpunch say the text is loosely translated to "Not one audience will leave the theater disappointed."
Mini-Geek Deal: Fandango has Buy One Get One Free Movie Ticket for Visa Signature Cardholders
Charlie Chaplin's speech from The Great Dictator gets mashed with Hans Zimmer's "Time" from the Inception soundtrack.John Gholson gives a good rundown of everything we know about Marvel's upcoming superhero team-up movie The Avengers.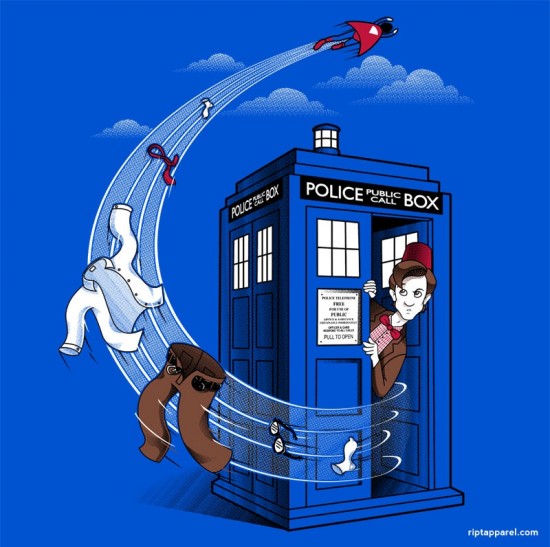 Today's t-shirt of RIPT Apparel is a Doctor Who/Superman-inspired design.
Charles Bronson's estate sues Warner Bros and MGM "alleging breach of written contract, unjust enrichment, fraudulent misrepresentation, negligent misrepresentation and unfair business practice."Someone has recorded the entire ride for The Little Mermaid: Ariel's Undersea Adventure before its premiere at Disney's California Adventure theme park.The New York Times has a good 4,600 word profile on JJ Abrams.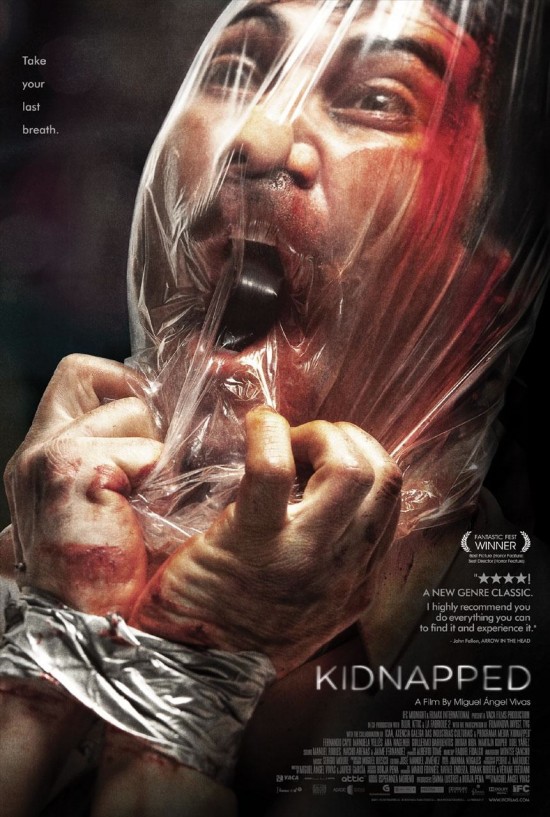 IFC Films has released a poster for Kidnapped.
GoIntoStory wonders id the PC killed Hollywood's archetypal screenwriter.
Due to the amount of graphics and images included in Page 2, we have to split this post over a BUNCH pages. Click the link above to continue the second page of Page 2.
The cast of Harry Potter sum up their experience working on the franchise in one word.
Jon Hamm is set to direct the season 5 premiere of Mad Men.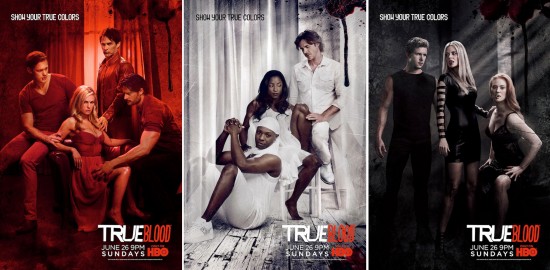 Check out three new posters for Season 4 of HBO's True Blood.EW lists the 12 best tv cliffhangers of 2011.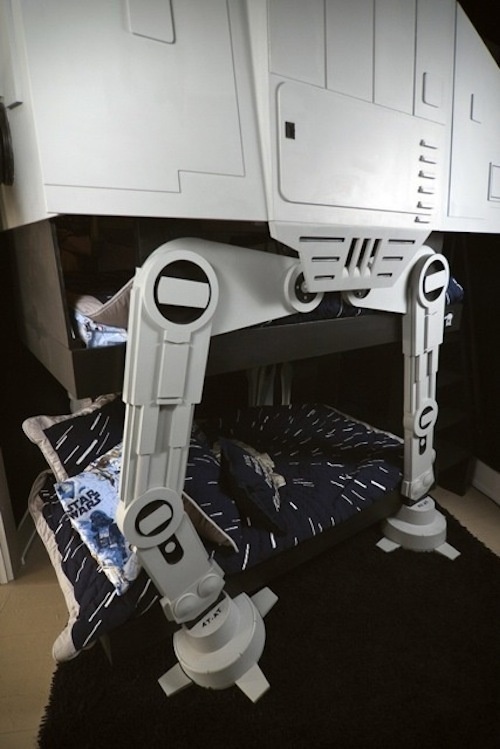 ForeverGeek takes a look at 6 killer Star Wars beds.
Universal and Jay Roach are producing a family adventure action comedy with Dean Parisot (Fun With Dick and Jane) attached to direct.
Director Joe Dante provides audio commentary for the trailer for The Big Clock, in the latest edition of Trailers From Hell.
Wes Craven tells EW that he will not be filming Scream 5 until after he takes a break from filmmaking: "I'm taking the summer off. I directed and produced, and my wife [Iya Labunka] produced, both 'Scream 4' and the previous film, 'My Soul to Take', and they were both very difficult films. So we just decided, 'You know what? We're going to spend the summer someplace nice and not think about film for a while.'"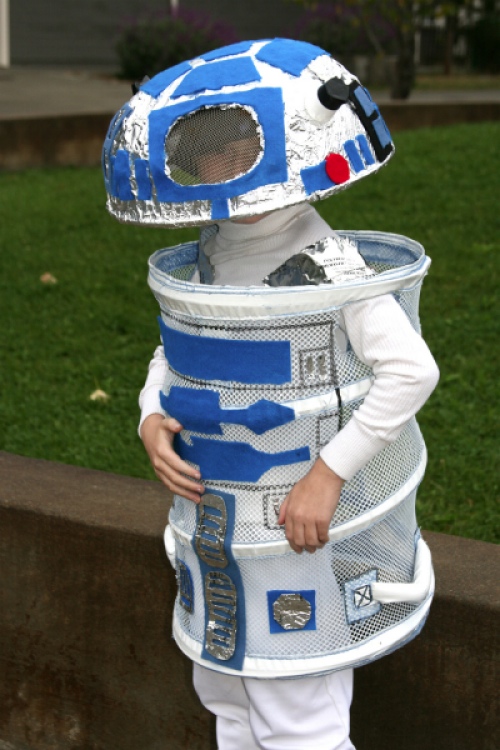 Geek Tyrant takes a look at some homemade Star Wars costumes.The Hangover: Part II made an estimated $10.4 million from midnight shows.
Due to the amount of graphics and images included in Page 2, we have to split this post over a BUNCH pages. Click the link above to continue the third page of Page 2.
Michael Clarke Duncan premiered a clip featuring Kilowog from Green Lantern on Attack of the Show.
Mini-Geek Deal: Regal Cinemas is offering a Printable Coupon for $2 Zap Pack (small popcorn, soda & snack) valid thru May 29th 2011.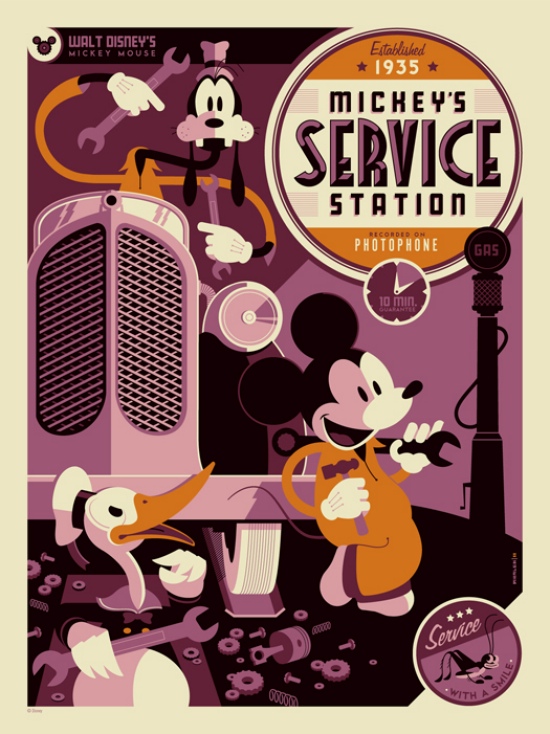 Mondo will be releasing their newest Tom Whalen Disney print Mickey's Service Station today.Screened lists the top 5 most absurd time bombs.Michael Sheen performed a dramatic reading of a piece of Twilight fanfiction on VH1?s s Big Morning Buzz.CNBC lists the 15 Biggest Box Office Bombs.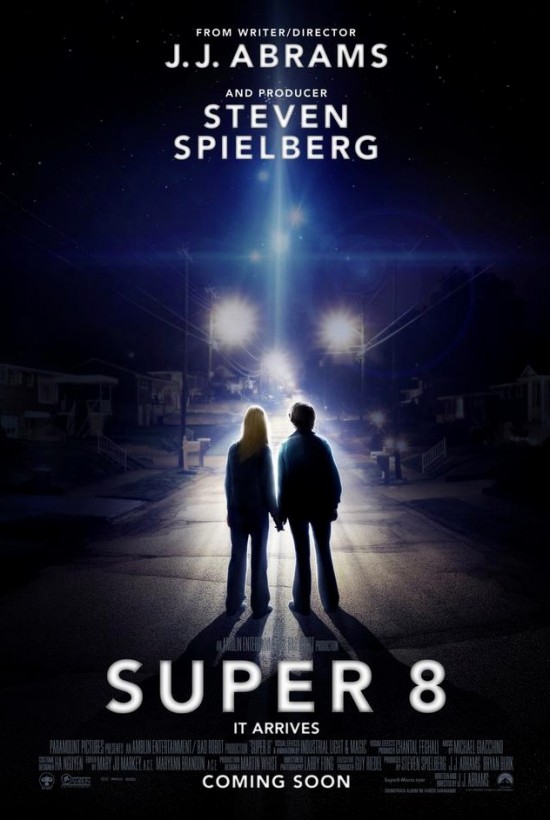 Paramount Pictures has released an American version of the Japanese Super 8 poster.
Pajiba lists the Most Emotionally Scarring So-Called Children's Movies of the '80s.
Filmed over 4 days, this video shows the execution of a 20-metre Tron: Legacy mural that was painted on huge canvases for installation in East London.
Telltale Games' Back To The Future Episode 3 HD was released on the Apple iTunes app store.
Due to the amount of graphics and images included in Page 2, we have to split this post over a BUNCH pages. Click the link above to continue the fourth page of Page 2.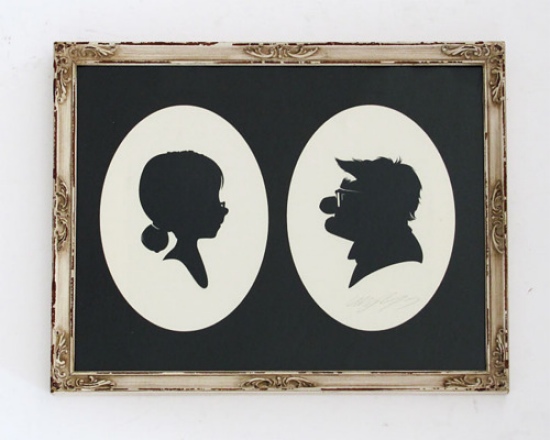 Mike Mitchell posted a photo of the piece he picked up at Olly Moss' Paper Cuts show, a tribute to Pixar's Up.
HBO will exclusively air Summit Entertainment's films starting on January 2013.

Princess Leia hair headphones.
OWF lists 5 0Great Films You Shouldn't Miss...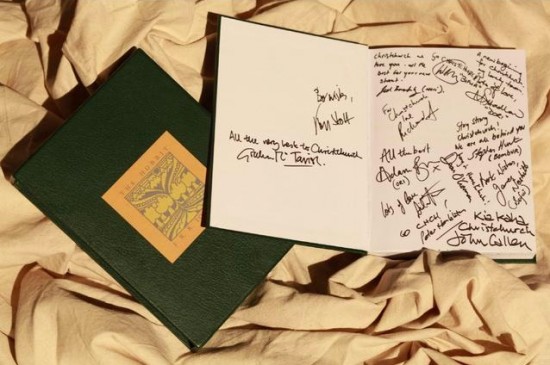 Bid on a cast signed copy of The Hobbit to help New Zealand earthquake victims.
Maya Entertainment has acquired U.S. rights to the Orozco brothers' thriller Greetings to the Devil.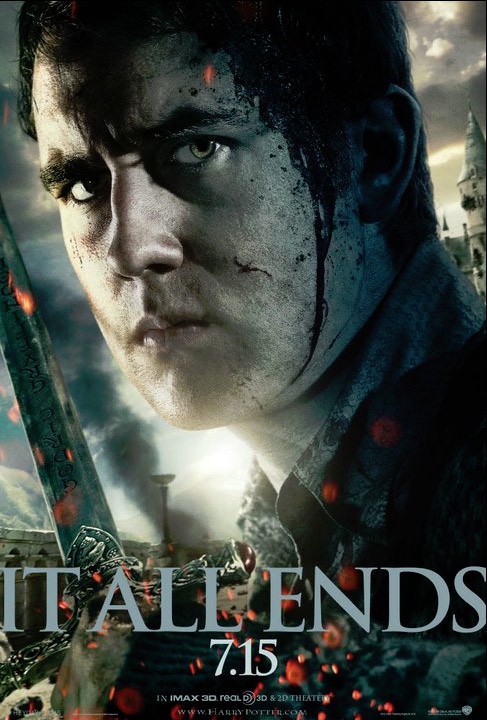 Warner Bros has released a Neville Longbottom (Matthew Lewis) character banner for Harry Potter and the Deathly Hallows – Part 2.
Rejects lists 8 Iconic Movie Rules To Live By.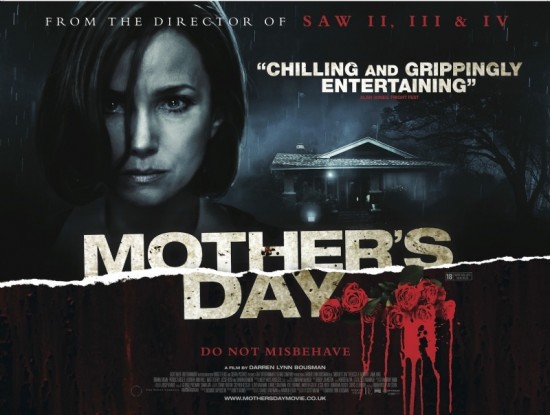 Empire has premiered the UK poster for Mother's Day.Kim Basinger, Heather Graham, Catherine O'Hara and Jason Patric will star in the indie film Fortune.
Due to the amount of graphics and images included in Page 2, we have to split this post over a BUNCH pages. Click the link above to continue the fifth and final page of Page 2.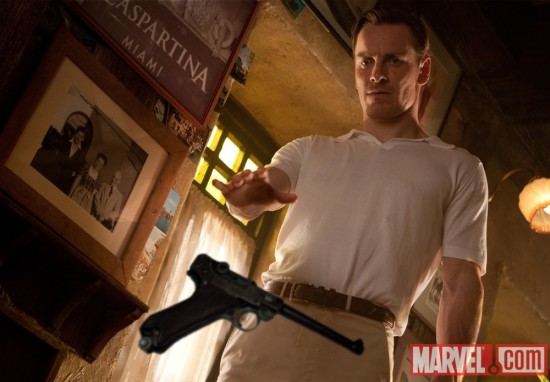 Marvel has some concept art from X-Men: First Class.
Irrational Games executive Ken Levine says a Bioshock movie is, "still in the conversation":
"I think we're in the space now of building properties that are appealing to people, and there's a version of Bioshock that makes a great game and there's probably a version of Bioshock that makes a great movie. I think for us as a company, we don't have any need to get a movie made. We'd like to have a movie made, but it would have to be the right one, and we've had the opportunity to get it made and unless all the right pieces are in place – it's hard enough to get a movie made when all the right pieces are in place. If you don't start with the right pieces, you don't have a prayer. We've had a lot of great talks with great people about it. We got close to great people, but you always have to have all of those pieces in place and that's going to be very challenging. It's a moving puzzle, but I'm going to be continually talking to people about it. It's definitely something that's still in the conversation."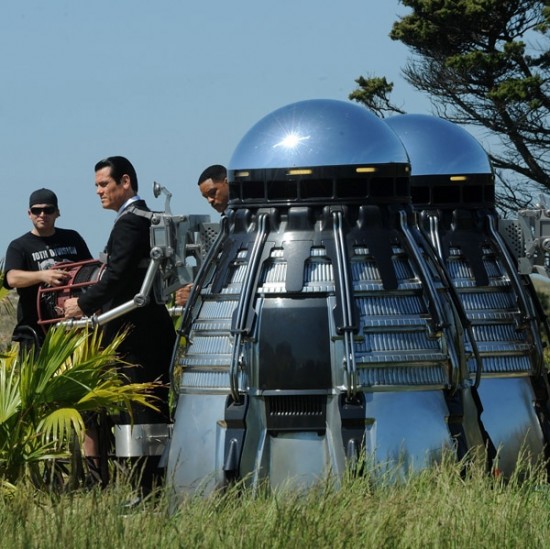 SHH has some new Men in Black III set photos.Kevin Bacon gives a little insight into Matthew Vaughn's directorial style:
"He's not gentle in the way he directs, to say the least. Matthew would sit by the monitor and shout something that's borderline insulting. But every time he said something — or screamed something — it was right on the mark."  ... "He's not like a ball coach, he's not talking all the time, I could shoot an entire day and do a bunch of takes and he wouldn't say anything. So it's not like he's constantly on you. There are directors who say a lot because they like the sound of themselves directing. They think that's what directors do. He doesn't have any of that. He doesn't do a lot of takes. He does zero in on things. I remember once he yelled, 'Stop twirling your mustache!' And it was totally on point. I was starting to get into some kind of idea of villainy and not staying true to who Sebastian was. As an actor, I can appreciate that."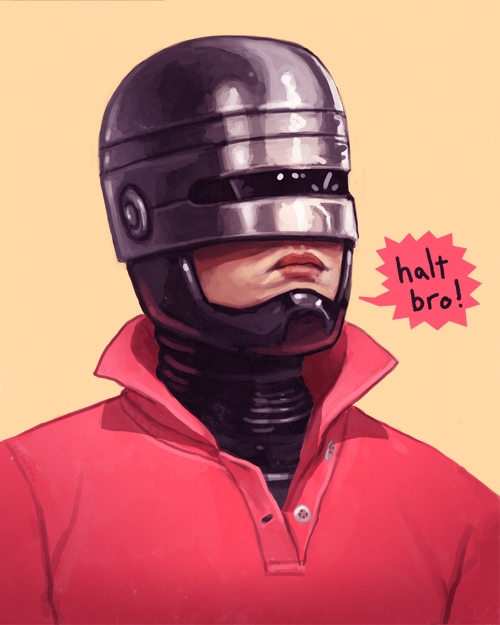 Mike Mitchell's Brobocop.
CinemaBlend lists 5 Lessons The Hangover Part II Learned From Other Comedy Sequels.