Universal Says Goodbye To 'Ouija'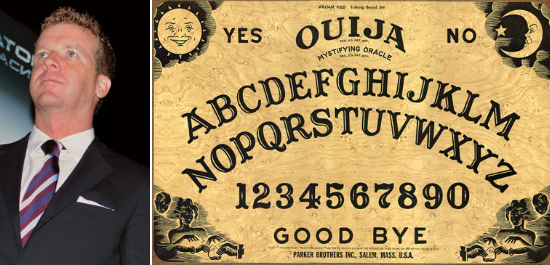 Back in May, a rumor broke on Twitter that Universal was halting pre-viz work and shutting down production on Ouija, the big budget, board game adventure film that was to be directed by McG and written by Edward Kitsis and Adam Horowitz. Inquires to Universal at the time denied this rumor and we didn't run the story. Turns out that was most likely the final few gasps of breath before the true ending.
Now Vulture is reporting Universal has officially dropped the Hasbro board-game adaptation. McG and producer Michael Bay are free to shop the project around but, according to reports, Paramount has already passed. There's more after the break.
Vulture's story alludes to the fact that the significant budget that was likely the reason for Universal's dismissal of the film but, if another studio shows interest, they could still come on to co-finance the project. If it does get officially killed though, Universal will have to pay $5 million to Hasbro as part of their deal in 2008.
Ouija marks the fourth film that Universal had been developing with Hasbro that will, most likely, not see the light of day: Monopoly, Magic the Gathering and most recently Clue are the others. They already have a lot of money invested in next Summer's Battleship and Taylor Lautner attached to play Stretch Armstrong sometime soon as well.
When Clue was canned, I wrote this, and one must assume its still how Hasbro feels:
Hasbro is more than content developing some of these projects on their own and then going out to studios with scripts and talent attached as opposed to just letting Universal do all the legwork themselves. They realize Universal can't solely focus on Hasbro movies all the time.
Still, it doesn't look like Ouija directed by McG is going to happen. At least not at Universal. What do you think? And does this reflect poorly on Battleship at all?