First Look: Robert Pattinson And Sarah Gadon In David Cronenberg's 'Cosmopolis'

We haven't yet seen a trailer for David Cronenberg's new film A Dangerous Method, but now here's the first still from his next new film, an adaptation of the Don DeLillo novel Cosmopolis. Principal photography started on the movie this week, and so here's the first look at Robert Pattinson and Sarah Gadon as husband and estranged wife Eric and Elise. Get used to looking at that limo, because if the film is faithful to the book you'll be seeing a lot of it. (Edit: As some surmised, this isn't in the limo where much of the film takes place, but a taxi.)  Check out the full image after the break.
The director's daughter, Caitlin Cronenberg, took the on-set photo and sent it out via Twitter. (It is also being distributed with the 'start of production' press release.) Click the pic to enlarge.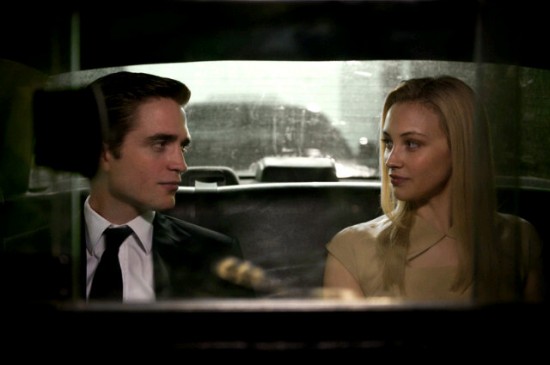 The cast also includes Juliette Binoche, Paul Giamatti, Samantha Morton and Mathieu Almaric , and the story follows young billionaire Eric Packer (Pattinson) as he travels across Manhattan via limo to get a haircut. But along the way he has to deal with the extensive fallout of decisions he's made and risks he's taken in his personal and professional life.
The cast came together after a little bit of wrangling — originally set up with Colin Farrell and Marion Cotillard in the roles now occupied by Pattinson and Gadon, things changed a bit, but the project soldiered on. Not long ago, Robert Pattinson praised David Cronenberg, after calling the script 'insane and difficult':
Y'know, there are so few auteurs left. The one thing that pisses me off about working in films is when you start a project and then, suddenly, two days before you start, there's a massive rewrite to make an R-rated movie into something that's PG-13, and it's a totally different story. As soon as that line's been crossed, you know you're not making a movie anymore. You're making a...a... fridge magnet. But with people like Cronenberg you know that, no matter what, there will be a movie at the end, and it will be solid and self-contained, and it's not made for any other reason than it being a movie.