'The Smurfs' Trailer #2: Mushrooms, Action And The Blue Man Group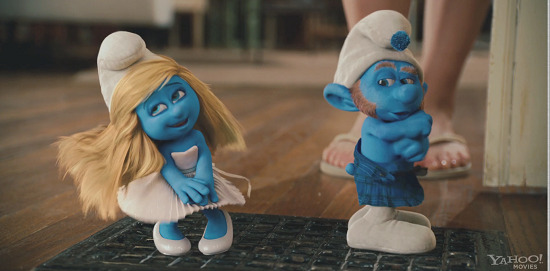 Oh, look, a new Smurfs trailer. The good news is that this trailer is not as painfully horrible as the first one. The bad news is that it is still a trailer for The Smurfs. But if you want to see mushroom houses, Gargamel (Hank Azaria) on the hunt and a moment where Neil Patrick Harris breaks down over the little blue creatures' overuse of the word 'smurf,' then hit the jump. Watch out for the product placement, though.
Yahoo is big and blue in HD.
When the evil wizard Gargamel chases the tiny blue Smurfs out of their village, they tumble from their magical world and into ours — in fact, smack dab in the middle of Central Park. Just three apples high and stuck in the Big Apple, the Smurfs must find a way to get back to their village before Gargamel tracks them down.
Here's the cast rundown: Jonathan Winters as Papa Smurf, George Lopez as Grouchy Smurf, Katy Perry as Smurfette, Alan Cumming as Gutsy Smurf, Fred Armisen as Brainy Smurf, Anton Yelchin (Star Trek, Terminator Salvation) as Clumsy Smurf, Paul Reubens as Jokey Smurf, John Oliver as Vanity Smurf; Saturday Night Live's Kenan Thompson as Greedy Smurf, The Office's B.J. Novak as Baker Smurf; and comedian Jeff Foxworthy as Handy Smurf.
The Smurfs will release on July 29, so if Cowboys & Aliens and/or Crazy Stupid Love are sold out, you can get smurfed instead.