Vin Diesel Could Shoot An R-Rated 'Riddick' Movie This Summer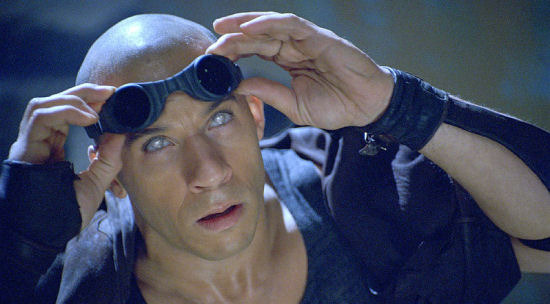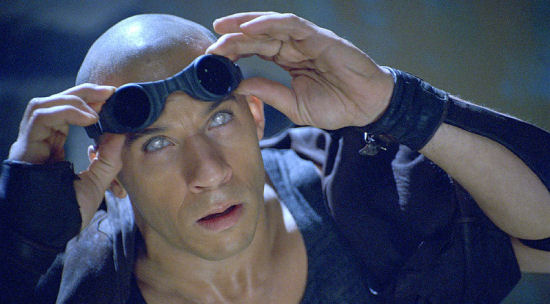 For years, Vin Diesel and David Twohy have sworn up and down that they were going to make a sequel to the Pitch Black spin-off The Chronicles of Riddick. As far back as this site has existed, and beyond, the pair have said they'd like to continue the story of the sci-fi badass and wanted criminal Riddick, but when the 2004 film failed to explode at the box office, grossing barely $60 million domestic, those plans stalled. But the pair have kept thinking about the idea, developing it, and now with Diesel a hot commodity once again (based off the huge success of Fast Five) it seems the Riddick sequel is once again a possibility.
Diesel took to his Facebook page and said that he and Twohy could be ready to shoot a hard-R rated version of the film as early as this summer...if he was willing to work for scale, which basically means minimum wage for actors. Will Diesel do it? And what exactly did he say? Read it after the break.
Diesel took to Facebook to bring up the news. Here's what he said:
D T the writer/director just landed in New York with the good news. We can start filming this summer. However, there is a catch... in order for us to make a true R rated film, I must work for scale upfront. Not unlike the "Find me Guilty" experience (which I wouldn't have changed for the world)... Money is always second to art, integrity and spirit... but the real issue is deeper. Can I suspend my life, to momentarily venture to that dark place... called Riddick. Now, I need to hear from Our collective... you. Wisdom and clarity appreciated
Tens of thousands of people did comment and Diesel followed up with this post:
I have read so many interesting and intelligent responses to today's post. You all have such great insight... I truly love Our page. Thank you again for taking the time to weigh in. P.s. I am off to another meeting with David, the director of Riddick... to see concept art and discuss the potential schedule. Rex Cowan: – wrote – "We all have the dark Riddick inside us. You have a penchant for showing us our true selves. I for one support your dive into Riddick and will standby to help pull you out."
So where does that leave us? Waiting for Diesel and Twohy to make a decision and bring it to a studio. If Diesel does decide to work for scale, and Twohy can keep the budget semi-affordable, they'll be beating away studios with a stick, even if it is a sequel to an average movie that was a box office disappointment.
Plus, as odd as it sounds, Diesel has lost a little street cred only making Fast and Furious movies in the past few years. If he does work for scale and makes an R-rated Riddick sequel, no matter how good it is, it'll help him regain a little of that lost respect. It seems like a winning proposition for everyone accept Diesel's accountant.
Based on previous news of this film, all we know is that Diesel will need three different body types and that it'll focus more on the character of Riddick as opposed to the world he's in, which was a problem in Chronicles. Putting two and two together, you can imagine we might see Riddick at various stages of his life.
Do you think this film will ever see the light of day? Will Diesel's Fast Five cache help get it done?