Ron Howard Says 'The Dark Tower' Could Shoot In Spring 2012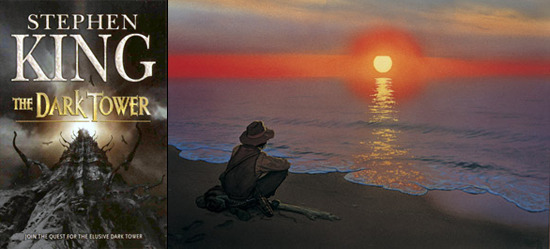 The Ron Howard, Akiva Goldsman and Brian Grazer adaptation of Stephen King's sprawling novel series The Dark Tower quickly became an equally sprawling film and television project. Three movies are planned, with short television series linking them, and Javier Bardem possibly starring as lead character Roland Deschain. But the project is at Universal and as the studio reconsiders its plans in the wake of several underperforming films, the budgetary scope of The Dark Tower has been reduced. That means a rewrite is in order, and to accomodate these changes plans to begin shooting the first film this fall were pushed back.
Now Ron Howard says he's hoping to begin The Dark Tower in spring 2012. But what of Javier Bardem?
Ron Howard spoke with EW, saying
We had to pull back to our September start date due to budget delays and ongoing story development and logistical issues, but Dark Tower is moving forward... We're thinking of starting in early spring now.
'Thinking of' is still pretty non-committal,  but that makes sense — throwing out anything as a start date that is written in ink would be foolish at this point.
And what about Javier Bardem, who would make a killer version of the Gunslinger, should he actually take the role? When the start date was pushed back one of the first assumptions was that he would be a casualty of the new schedule. And while we don't know for certain that the lead role will go to someone else, Ron Howard suggests that any casting is far from set in stone as the other changes are made:
I can't really say who'll be in it yet, but Javier Bardem has shown a great deal of interest. We'll know by the end of the summer, when our flashing green light goes solid.
This is where I can parrot what I've said in the past: this creative team (Bardem aside) doesn't seem right for the material, but the scope of the project is so insane that I want to see if they can pull it off. There is a May 17, 2013 release date penciled in for the first Dark Tower film, but we'll see if that happens. I'm not even close to convinced that Universal will actually make this project happen, so lets see a green light for the first film before making any assumptions.